04.01.09
home | metro silicon valley index | columns | silicon veggie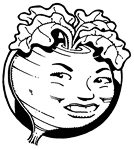 Silicon Veggie
Mediterranean Mood
By Elisa Camahort
IN CASE you haven't already noticed, I offer you this veg*n tip: Go Mediterranean. While you may have visions of kebabs and gyros dancing before your eyes, much of what naturally accompanies such meaty Mediterranean meals is suitable for the vegan diet. I put the tip to the test this week and dined at Cafe Artemis, in the Pruneyard in Campbell.
Noshing on their appetizer platter ($11.95) alone would have been a satisfying meal. Bonus points for not blinking an eye at our request to bring the appetizer that contained dairy (tzatziki) out on a separate plate. Double bonus points for separating out another appetizer that we didn't realize had dairy and adding it to the second plate without our asking.
So what was left for me? Plenty. Falafel, hummus, tabouli, dolma lentil kofte and plenty of warm, soft flat bread. That's a meal packed with protein and healthy grains right there: chickpeas, lentils, bulgur wheat. Naturally nutritious. Naturally low-fat.
And lest you think the same could be said for plenty of taste-deficient "health food," Mediterranean appetizers are liberal with the garlic and herbs, too. We're talking tasty, not just healthy. The portions of the appetizers served in this platter for two were also healthy. My dining companion and I did not make it all the way through the platter, and I had plenty of my entree to take home because I was already pretty well satisfied when it arrived.
There are two identified vegetarian entrees on the menu: vegetable kebabs and Mediterranean okra over rice pilaf ($13.95). I chose the latter because, theoretically, I could string together the mushrooms, carrots, onions, peppers and eggplant found on the kebabs myself just about anytime, but it's doubtful I'll be cooking with okra anytime soon.
That is because okra is a funny beast; it all relies on the cooking style and time, because, like a few other veggies I can name (I'm talking to you, eggplant!), if cooked too long or too short it can go from cute, firm little alternative vegetable to slimy veggie from hell. Cafe Artemis gets it right, and along with a tangy tomato-based sauce and plump, nutty rice pilaf, the Mediterranean okra did this vegetable-that's-really-a-fruit proud.
It's always good to have Mediterranean restaurants on your vegan radar, and Cafe Artemis is the perfect example of why: a bounty of fresh, healthy, flavorful options for vegetarians and vegans. Opa!
Café Artemis
Location: 1875 S. Bascom Ave, Campbell
Phone: 408.626.8100
Hours: 11am–10pm daily
Web: www.cafeartemis.com
Send a letter to the editor about this story.