04,02.08
home | metro silicon valley index | the arts | books | book review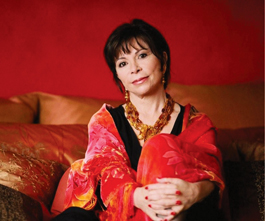 Mother Knows the best stuff: Isabel Allende reveals the private lives of family and friends in 'The Sum of Our Days.'
All-True Tales
Isabel Allende plumbs family drama in her new memoir, 'The Sum of Our Days'
By By Jean Stirling
ISABEL ALLENDE's new book, The Sum of Our Days, is a deeply revealing memoir of the intimate lives of an extraordinary family related by blood, marriage or absorption, living in "an emotional compound" within minutes of each other, with keys. I asked Allende how her family viewed her newly released book's exposure of their most private layer of life: at home, between intimates.
She replied, "It's not out in English yet, so the American part of the family hasn't experienced the impact." The "American part of the family" would be second husband Marin lawyer Willie Gordon; his grown children; their children's spouses; a network of her declared sisters "of Perpetual Disorder"; and all the other friends, lovers and offspring who have been drawn into the warm, familial web of the colorful and meddling matriarch, Allende herself.
Often called a spinner of tales, she is also, it seems, the cultivator of copious harvests. The author has drawn many rich, ripe literary fruits from the loamy ground of her family. But what a family! Her cousin, Salvador Allende, the socialist president of Chile, was overthrown by a violent coup with the help of the CIA; this connection during the Pinochet dictatorship caused her childhood to be nomadic and turbulent.
Allende was born in Peru to an unconventional mother and a diplomat father who disappeared mysteriously. Her mother returned to Chile, where the four lived with Isabel's psychic grandmother and much-loved grandfather, Agustín Llona Cuevas, whose imminent demise decades later inspired The House of the Spirits (1982).
This first novel propelled Allende to a rare position of prominence for literary figures. Written in Spanish and translated widely, it was delivered into the waiting arms of readers whose taste for magical realism had been whetted by Gabriel García Márquez and a decade of new voices from Latin America. The first woman among these young lions, Allende delivered a distinctive point of view, rich characterizations, meticulous historical research and vivid language, which charged her stories with delicious detail that lent each tale a believable, if haunted, humanism.
The House of Spirits was followed by the successful Of Love and Shadows, Eva Luna and others at about two-year intervals until she wrote Paula (1994), in the form of letters to her daughter, who lay in a coma for almost a year before dying in 1992. In the letters, Allende related the saga of the Chile of her childhood, the coup and her family's years of exile. Wrapped in the garments of this history is a mother's voice, questioning God.
Is her secret simply the good fortune to be born at the center of interesting times and fascinating people? "All stories are interesting if told in the right tone," Allende explained. "When I came to live here, friends, publishers asked me, 'What are you going to write about now, in Marin, [with] no more ghosts, premonitions?' I told them, 'It's pretty weird here.'" She continued, "In the 17 years since Paula died, many things happened to the family. I had written about it all: Every day, I write a letter to my mother with the events and the mood of the day. She saves them for me and each year gives me back a year of letters. ... As I sat down Jan. 8, 2006, I was ready to start an historical novel. Then my agent called from Spain. She said, 'Write a memoir, before you forget everything.'"
Everything is remembered: her family's petty arguments and catastrophic blowouts, divorce, betrayals, sexual reorientation, her circle of Marin characters, Zen mothers, Chilean visitors are all presented with commentary and insights, peppered with news of the day. The book is as revealing of Allende's own faults and foibles as she is of her family's. "The people I love the most in the world are so close, but the grandchildren are gradually leaving and I'm trying to interfere less in their lives," Allende said. "It's hard. I've lived a long life; I can see consequences when they can't."
"It's hard for me to let go of people," she admitted. Her daughter Paula "is unreachable; only in my love for her are we in contact. She comes in signs."
THE SUM OF OUR DAYS, by Isabel Allende; HarperCollins; 320 pages; $26.95
Send a letter to the editor about this story.