04.02.08
home | metro silicon valley index | the arts | dance | review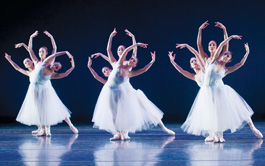 Photograph by Robert Shomler
PATTERNED: Ballet San Jose's corps executes the intricacies of Balanchine's 'Serenade.'
Near And Far
Two views offer different takes on Ballet San Jose's trio of Balanchine dances
By Marianne Messina
A LESSON in perspective, Ballet San Jose's "Just Balanchine" program could be appreciated most holistically from the faraway seats. Separated by two intermissions, each of the three Balanchine pieces spreads recombinant groupings of dancers over the barren stage to counteract and interact with each other. Close-up, it's not easy to watch feet and body line at the same time. For example, being mesmerized by Maria Jacobs' wispy arm movements in The Four Temperaments duet with Rudy Candia may cost a glimpse of that fleeting, tiny half-moon motion she makes with her arched, crescent-shaped foot. On the other hand, a close-up view impresses the eye with the corps' technical speed: beating legs and toes, Balanchine's signature entrechat movements, Maximo Califano catching Erena Ishii to his chest between her airborne pirouettes in Serenade , Maykel Solas executing an exhausting series of double tours in Theme and Variations . View it all from anywhere in the house—close-up it's a petal; from a distance it's a rose.
The Balanchine program provided many surprises of movement, like chair poses held on toe and a variety of dislocations centered in the hips. Odd-angled legs seem to drag out-thrust hips behind them. The resulting leaned-back torsos draw focus on the stress of claiming balance. The culmination of the split hip bones affect comes in the "Sanguinics" variation from The Four Temperaments as Alexsandra Meijer does a kind of rumba sur les pointes . The next variation, "Phlegmatic," answers that stress with a sense of leisure evoked by violin and a quartet of women emphasizing hand movements. Despite occasional capricious music, light-footedness and whimsical themes, the overall impression of Balanchine's Four Temperaments is gravitas; dance is a doorway to some shattered inner workings. When Hindemith's piano music pounds as brooding as labor camp on the Volga, Balanchine's moves can seem sort of Frankensteinian, as if living bodies are built from spare parts and obsession. Ramon Moreno backs offstage from the "Melancholic" variation of the Four Temperaments in a handless back bend.
With a fallen Karen Gabay in Serenade , Balanchine gives us a beauty of collapse, whether it's overt, as when Karen Gabay collapses in Serenade , or suggested, as in Ramon's near-broken back. When Gabay is lifted and carried off, she too hangs over backward, her black hair sweeping below her. The piece offers a distant beauty in tableaux, freezing and slowing time, jarring expectation and peering out like consciousness. As an ensemble of sylphlike women stare at the fallen Gabay, their stillness evokes some cold ethereal watcher. The opening tableau of Serenade —rows of women with one arm poised skyward as if awaiting something—is a breath held while Tchaikovsky's low, descending strings wax liturgical.
The show must have had light designer Kenneth Keith twitching at his faders. Lights, all pale shades, are not allowed to play in full color until the final work, Theme and Variations , which features a familiar ballroom polonaise and pas de deux. The dazzle of diamonds, tiaras and costumes in plum rose and black brought murmurs of audience approval at curtain rise, a sense of relief—the tour through the breaking and reassembling of form returns safely to conventional beauty.
Send a letter to the editor about this story.