04.02.08
home | metro silicon valley index | the arts | books | review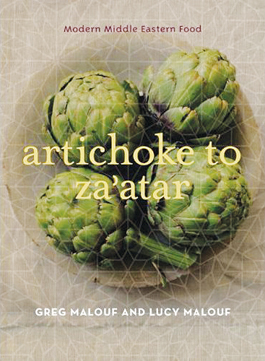 Tasting Thyme
By Michael S. Gant
THE best cookbooks are as good for reading as they are for cooking. Greg and Lucy Malouf's Artichoke to Za'atar: Modern Middle Eastern Food (University of California Press; 336 pages; $29.95) succeeds on both counts. Australian chef Greg, with help from his writing partner, Lucy, mines his own Lebanese family background for a wonderful collection of recipes, advice and culinary lore. The Maloufs' definition of the Middle East encompasses North Africa, the Iberian Peninsula in a Moorish mood and the varied countries of the Eastern Mediterranean. In this edition (updated from an Australian edition), the measurements have been made more friendly for North American shoppers and cooks.
The volume is arranged alphabetically by 44 prime ingredients. Despite the title, they actually run from almonds to zucchini, with stops along the way for heady spices like cardamom, coriander and the intriguing salty/sour sumac, which can be combined with thyme and sesame seeds to make za'atar; fruits like apricots, dates and figs; and stables like chickpeas, couscous and yogurt. Each section begins with a historical survey followed by kitchen tips and recipes. The food lore often proves to be appetizing: about kibbehs, "torpedo-shaped patties of meat stuffed" into bulgar shells, the authors write, "The art of kibbeh making is the stuff of legend, and much is made of those special women favoured with 'kibbeh fingers.'" The names alone impart a heady scent to the prose: "In Yemen, cardamoms are added to relishes such as the fiery zhoug and the musty, mysterious hilbeh. " The recipes feature vegetarian possibilities for those who aren't ready to try pigeon tagine with dates and sugar. So far, I have tried the mashed potatoes with goat cheese—an easy but very satisfying comfort food. I also enjoyed avgolemono, an elegant but simple whisked mix of eggs, lemon and stock that can be both a soup and a dipping accompaniment to almost any vegetable or roasted fish.
Send a letter to the editor about this story.