04.02.08
home | metro silicon valley index | music & nightlife | band review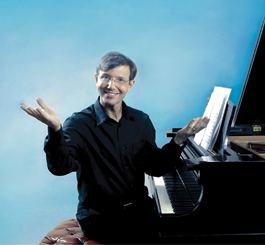 The Ears Have It: Rob Kapilow explains what you're really hearing when you hear classical music.
Classical Moves
By Michael S. Gant
Rob Kapilow With enthusiasm and lots of examples, Rob Kapilow breaks down classical music like a good scout breaks down the hitch in a right-handed power hitter's swing. For this edition of "What Makes It Great?" Kapilow makes the intricacies of the German art song explicable even to novices. It doesn't hurt to have famed soprano Emily Albrink around to illustrate his points. Wednesday (April 2) at 8pm; Dinkelspiel Auditorium, 471 Lagunita Dr., Stanford; $15–$34; 650.725.ARTS .
San Francisco Symphony † Mozart, Ravel and Saint-SaŽns are featured in a classical program geared toward kids and families. The San Francisco Symphony, in a pedagogical mood, provides some appealing music with a little bit of explanation and context, suitable for ages 7 and up. Benjamin Shwartz conducts. In addition to some standards, like Ravel's Bolero , the symphony will also play Ku-Ka-Illimoku , a new-music piece by contemporary composer Christopher Rouse. The symphony also performs a grown-up program of Purcell, Respighi, Handel and Bach, under the watchful eyes of guest conductor Harry Christophers, on Thursday at Flint. Family Concert: Saturday (April 5) at 2pm, Flint Center, 21250 Stevens Creek Blvd., Cupertino, $12.50–$54; also, regular concert Thursday (April 3) at 8pm, Flint Center, $38–$65, 415.864.6000.
Palo Alto Philharmonic Orchestra Pianist Daniel Glover does the guest soloist honors in a performance of Rachmaninoff's Rhapsody on a Theme of Paganini . The orchestra will also present Debussy's Prelude to the Afternoon of a Faun and Brahms' Symphony no. 2. Saturday (April 5) at 8pm; Cubberley Theatre, 4000 Middlefield Road, Palo Alto; $8–$17; www.paphil.org.
Philharmonia Baroque † The period-instrument specialists plumb the Baroque repertoire for some unusual selections in a concert called "Coronation & Victory." In addition to three anthems by Purcell, the evening showcases two works by Handel: Dettingen te Deum and Zadok the Priest , which was written for the assumption of the throne in 1727 by George II. Nicholas McGegan conducts. Friday (April 4) at 8pm; First United Methodist Church, 625 Hamilton Ave., Palo Alto; $30–$72; 415.392.4400.
Send a letter to the editor about this story.