04.02.08
home | metro silicon valley index | silicon valley restaurants | review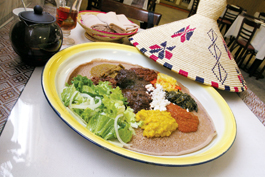 Photograph by Felipe Buitrago
WOT ELSE CAN YOU ASK FOR: The meat and veggie combo plate at Rehoboth.
Rehoboth Rebirth
Excellent Ethiopian addition is livening up Japantown neighborhood
By Stett Holbrook
AS YOU might expect, Japantown is San Jose's go-to neighborhood for Japanese food. But there's more to it than sushi and ramen. There are a Korean restaurant, a few Mexican eateries and even a Cuban restaurant. And with the opening of Rehoboth Ethiopian Cafe and Restaurant in August there's now another option.
San Jose is one of the Bay Area's epicenters for Ethiopian food and it more than holds its own against restaurants in San Francisco and Berkeley, the region's other Ethiopian hot spots. Rehoboth is one of the South Bay's best.
Don't let the bombed-out-looking buildings nearby deter you. It's tough for any new business to make it, but when your neighbors are abandoned tumbledown buildings, it's got to be even harder. The Sixth Street neighborhood is quite safe. It just looks a little bleak. Bright and clean Rehoboth shares a wall with a boarded-up building. Next to that is another crumbling monument of neglect. What's up, City Hall? Why are these property owners allowed to cast such blight on an otherwise tidy neighborhood? You'd think the city would want to help new businesses thrive and attract others by leaning on deadbeat owners to clean up.
But I digress.
Inside Rehoboth there's a cafe of sorts up front with Ethiopian art on the wall where you can get pastries and excellent Ethiopian coffee. Ethiopia is said to be the birthplace of coffee and Rehoboth does the mighty bean proud. Walking back past the bathrooms, the restaurant opens into a long dining room. On my visits, the place was nearly empty and as quiet as a funeral parlor until someone turned on some music.
Owner Erkab "Kay" Kifle waits on tables and cooks. Soft-spoken Kifle is like the Ethiopian mother you never had. If you're unfamiliar with Ethiopian food, she'll ask you what you're hungry for and guide you through the menu. After she's made your meal she'll check back later to see that you got enough to eat. Portions are generous, so it's unlikely you'll leave hungry.
The restaurant turns out to be a real haven for vegans. In many Ethiopian restaurants, vegetarian dishes are doused with niter kibbeh, clarified butter that has been infused with spices like cumin, coriander, turmeric and cardamom. The spiced butter has a complex, spicy richness. But Rehoboth makes its vegetarian dishes with olive oil, a difference that opens doors to vegans and lightens up what can be butter overload. Many of the vegetables and legumes are organic, too.
The vegetarian combo ($9.95) offers a good introduction to Kifle's cooking. A half-dozen different dishes arrive on top of injera, a spongy, sour unleavened bread made from a protein-rich grain called teff that serves as plate and utensil. You simply rip a piece off and scoop up your food. For everyone who was chastised for eating with his hands as a child, Ethiopian food offers sweet revenge.
Standouts on the vegetarian combo include the mitten shiro (chickpea), kik alicha (split pea) and atkilet wot (carrot, cabbage and potato stew).
It's not on the vegetarian combo, but be sure to try the yemesir wot (red lentils, $7.95), a luxurious and comforting stew made from organic lentils imported from Ethiopia.
Meat dishes are just as strong. One of my favorites is the doro wot (chicken legs in berbere sauce, $9.50). Berbere is one of Ethiopian food's signature ingredients and it's showcased in this dish. Berbere is a curry of sorts made with cumin, allspice, cloves, fenugreek, turmeric and cardamom that packs a spicy, aromatic punch. Paired with the chicken, it reminded me of a sultry mole sauce. Best of all the meat dishes is the wonderful gomen besiga ($10.50), slow-cooked chunks of mild lamb and greens bathed in that magic spiced butter.
The restaurant doesn't serve dessert so just order a coffee with extra sugar instead, and toast Japantown's expanding culinary offerings. Welcome to the neighborhood, Rehoboth.
---
Rehoboth Ethiopian Cafe and Restaurant
Address: 664. N. Sixth St., San Jose
Phone: 408.947.1717
Hours: 11:30am–9pm Mon–Thu and 11:30am–10pm Fri–Sat
Cuisine: Ethiopian.
Price Range: $7.95–$9.95
Send a letter to the editor about this story.