04.02.08
home | metro silicon valley index | music & nightlife | band review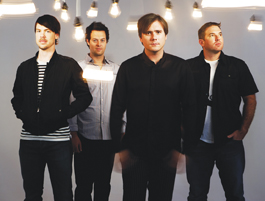 Fallout Ploy: Just because Jimmy Eat World popularized emo doesn't mean they're responsible  for the monster it became.
Homegrown
Jimmy Eat World dodge the emo fallout and come full circle with their homemade album, 'Chase This Light'
By Garret Wheeler
THE HISTORY of Jimmy Eat World reads like a rock & roll fairy tale, complete with teenage record deals and instantaneous pop-stardom. Even the story behind their name is somewhat legendary.
An argument between Tom Linton's (guitars/vocals) younger brothers Ed and Jimmy resulted in Ed drawing a picture of his heavy-set brother with the caption "Jimmy eat world." The name stuck, but according to bassist Rick Burch, the band "didn't expect it to be the name for more than the next show—we didn't give it much thought."
The group began as most bands do—playing in garages, booking their own shows and living in a van intermittently for six years. Then, in 1995, they got their big break when a record exec from Capitol came knocking.
"[Getting signed] was really strange and unexpected," Burch says. "It wasn't something we went out to try to do, it just kind of happened." The opportunity to make a living, and a healthy one at that, was an enticing offer that Burch says led to a singular decision: "I could go to college or go on tour and make records," Burch says. "I figured college will still be there, so I went for it to see what we could do, and [the band] is still going—it's pretty crazy."
Armed with an infectious blend of alternative rock and pop-infused punk, the group authored a batch of melodies that quickly became the sound dominating modern rock airwaves. It was after the group's self-produced third album Bleed American hit shelves that Jimmy Eat World was crowned king of the late-'90s emocore scene.
When asked about their "emo" status, Burch shunned the label. "We consider ourselves just a rock band, with four guys playing guitar, bass, and drums ... I think 'melodic rock' is the best way to describe it—we make music we like."
By riding the emo wave while shunning the stigmatized label, the band has its cake and eats it too. Since Bleed American's success, Jimmy Eat World has continued to issue radio hits and critically embraced albums. Their 2004 release, Futures, went gold on the strength of the album's single, "Pain," and now their new album, Chase This Light, is following suit.
Homestyle Recording
Though the heyday of the genre they helped invent is long since gone, their new album positions the Arizona-based quartet at the forefront of mainstream rock. And it all happened from the comfort of home, sweet home.
"We actually recorded the entire album in our [Tempe, Ariz.] practice studio," says Burch. "It was really cool because it was such a relaxed environment, like working from home." The band's previous four releases (not counting their early unsigned efforts) were all made in the place where most recording artists do their work: Los Angeles.
But as anyone who has ever tried to cut a professionally produced album knows, the outcome is not always worth the input.
"Studio time is expensive," explains Burch, "and you're always hesitant to experiment with new sounds and ideas when you're worried about paying by the day."
The benefits of having the studio team come to the artist are apparent, but it also helped that the band was able to fly in executive producer Butch Vig, whose résumé includes Nirvana's Nevermind album, to oversee the project—a luxury most bands can't afford.
But for the ones that can, they might take a hint from Jimmy Eat World and forgo the hectic process of producing an album in a studio. "It was nice being able to go to our actual homes at the end of the day and not some hotel away from our families," Burch says. "Now that we know we can make a good-sounding album [in our own studio], we can do it again any time—we just have to buy a new hard drive."
JIMMY EAT WORLD performs on Tuesday (April 8) at 7:30pm at San Jose Event Center, 290 S. Seventh St., San Jose. Tickets are $30. (408.998.TIXS)
Send a letter to the editor about this story.