04.02.08
home | metro silicon valley index | the arts | stage | review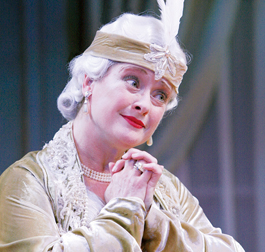 Photograph by Chris Bennion
IMPERfECT PITCH: Patti Cohenour embodies the delightful defects of society singer Florence Joster Jenkins in 'Souvenir.'
So Bad, She's Good
SJ Rep's 'Souvenir' recalls the strange career of Florence Jenkins, who couldn't sing but sang her way to the top
Marianne Messina
LISTENING to an audio clip of singer/socialite Florence Foster Jenkins (d. 1944) should be a prerequisite for going to see Stephen Temperley's Souvenir at San Jose Repertory Theatre. For, not having heard the real Lady Jenkins mangle Mozart's acrobatic aria "Queen of the Night," it would be easy to accuse actress Patti Cohenour of overacting the god-awful vocals. With wandering pitch and next to no vibrato, Cohenour is scarcely overdoing it. By what mental processes, cognitive researchers would love to ask, did this woman so overestimate her abilities?
This is the running question posed by Jenkins' accompanist Cosme McMoon (Mark Anders) in the play when he occasionally gets up from the piano in his concert tuxedo to address the audience. Generally, Cosme is the aware observer. Seated at piano before the tall columns and high windows of Jenkins' conservatoire (also serving as Carnegie Hall when panels cover the windows), Cosme can be eminently funny, especially in his endless verbal dainties served up to Jenkins as discreet corrections: "Some notes are not quite secure," he coaches, or a note's pitch, he advises, is "not something about which we can be too evasive."
The truth was, people went to Jenkins' concerts to laugh. They laughed her all the way to Carnegie Hall ("2,000 people were turned away"), sold-out houses and nine sold-out 78-rpm recordings. Jenkins was forbidden to pursue music while her father was alive, and her story is an exemplar for the Secret and related can-do philosophies. She began singing at 41 and recording at 73. She sang at Carnegie Hall at 76, and so Souvenir has all the ingredients of a heartwarming, musically rewarding, funny, uplifting, one-act show—except it's two acts. The plot is distended with jokes around Cosme's incredulity at the expense of more complex interactions. But Cosme's own story finally draws us in when he wonders whether, like Lady Jenkins, he thinks more highly of his work (as a songwriter) than everyone else does.
It's about at this point that the play tightens up, and its exuberance, longing and humor come together. Cohenour sings a passage that seems so earnest in its failing, it reveals how painfully funny Jenkins must have been. In the Carnegie Hall finale, the diva's many colorful, overwrought costumes—cardboard angel wings for the "Ave Maria"—are also no exaggeration of the original (costumes by Marcia Dixcy Jory). Cohenour (who can actually sing quite well) shows us a generous-hearted Jenkins, tapping on Cosme's shoulder or mouthing "He wrote this song" to the Carnegie Hall audience so he might share in her glory. Cohenour plays confidence without snobbishness, and her fondness for the irresistible Jenkins was evident at her teary curtain call.
More interesting than the cognitive question about what Jenkins heard is the one about the relationship between the cheering, laughing audience and this singer. Interestingly, it's sound designer Steve Schoenbeck who helps triangulate that question by providing a simulated audience for the Carnegie Hall performance. The laughing voices singing along with her "ha, ha, ha"'s sweep us up in a sense of rapture, not derision; it's an empathetic laughter that, while contradicting her seriousness, fuels her passion.
SOUVENIR, a San Jose Repertory Theatre production, plays Wednesday at 8pm (plus 11am on April 16), Thursday–Friday at 8pm, Saturday at 3 and 8pm and Sunday at 2 and 7pm (no 7pm show April 20) through April 20 at the Rep, 101 Paseo de San Antonio, San Jose. Tickets are $30–$59. (408.367.7279)
Send a letter to the editor about this story.