April 4-10, 2007
home | metro silicon valley index | columns | silicon alleys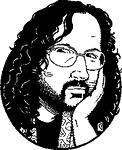 Silicon Alleys
The Mother of All Tailgates
By Gary Singh
THE UNYIELDING declaration from Club Quake offered the following command in all capital letters: most importantly please make sure you and all your friends are wearing blue. we are at this game for a reason and that is to show that the earthquakes and their fans are still alive. many important people will be there and we need to show them that the support is still here.
It didn't matter that this was a soccer match between Mexico and Ecuador at McAfee Coliseum in Oakland. It didn't matter that a capacity crowd of over 47,000 sold out faster than any match ever sponsored by Major League Soccer. Earthquakes LLC, the company started by Oakland A's bigwigs to bring a soccer franchise back to the Bay Area, spearheaded the event and it was the largest attendance for any Mexican national team match in the history of the Bay Area. It was also the largest crowd ever for a soccer match at that venue. Quakes fans gathered in droves out in the tailgate area as early as 2:30pm for the 8pm kickoff. They had an officially screen-shop-printed sign that said, "Un tailgate a toda madre," which translates as "The Mother of All Tailgates."
And they all wore blue to show the televised audience that Quakes fans still populate this area, and that it was an absolute travesty of justice that their team was shuffled off to Houston in order for the owners to pursue a new stadium that they didn't completely want to pay for but still wanted to operate. The fans were not endlessly whining about the whole thing—on the contrary, they were at this game purely just to voice and show their support for the public at large. Quakes fans were even allowed to have their own section in the stadium, the same thing that happened for the USA/Japan game in San Francisco last year—a match that more than 35,000 attended. For that game, I wasn't even planning to go until I saw a melee of Japanese women parading down San Fernando Street in native soccer jerseys on their way to the Caltrain station.
Anyway, since so much misinformation continues to circulate about what actually happened when the Quakes left, I just had to infiltrate the die-hard fans this time around. It was like a high school reunion of sorts, as these di-hards used to commandeer an entire corner of the parking lot to tailgate en masse at every Spartan Stadium match. The buzz of late is that A's kingpins Lew Wolff and David Alioto are possibly, perhaps, maybe, hopefully, with any luck, inching closer to hammering out a landmark covenant with SJSU about a stadium that a returning Quakes franchise would share with the university's football and soccer teams. If anybody at SJSU can spell the word "economics," they would understand the fame and fortune this endeavor would bring to the university and the city. Like Mayor Chuck Reed said at the reception for SJSU's 150th anniversary, "What's good for San Jose State is good for San Jose."
Of course, when any similar bigtime forward-thinking proposal emerges here, you never see a shortage of cowtown nincompoops who oppose it—just like the Arena 20 years ago—but I insist on remaining blindly optimistic, relentlessly unobjective, partisan as all bloody hell and highly opinionated about the whole shootin' match. This will and should happen, dagnabbit. The university seems to be interested these days in collaborative projects with the city itself, a la the new library, so this completely dovetails with that ideology.
Back at the Mexico/Ecuador match, Quakes fans took up about half an entire section in the Coliseum—an impressive sight, again, given that this wasn't even an Earthquakes game. I had never been to a sporting event where 100 people showed up wearing jerseys of a team that doesn't exist anymore, and then rooting for that team. And each time Mexico scored, the Quakes fans collectively unleashed their own section-wide banner to accompany the entire stadium's worth of Mexican flags and banners. Now that's dedication, and that is what San Jose needs.
Contact Gary Singh or send a letter to the editor about this story.