April 4-10, 2007
home | metro silicon valley index | music & nightlife | feature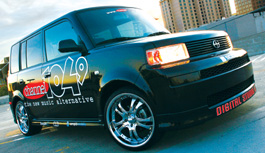 The rebirth of cool: A campaign by fans resulted in a rare reversal by Clear Channel, which brought alternative back to 104.9FM.
Here We Are Now, Entertain Us
The Internet saved alt-rock radio in Silicon Valley when devoted fans beat the odds in their successful campaign to bring back Channel 104.9. But it faces an entirely new landscape, where alternative is the new classic rock, former rebels are the new boomers, and the whole radio game may be waiting around to be killed off by ... the Internet.
By Mike Connor
WHEN MOZART was cranking out the jams, it's safe to say that no one was calling his music "classical"--at least not without Wolfgang opening up a concerto of whoop-ass on them. Scott Weiland, on the other hand, is just going to have to deal with the fact that Stone Temple Pilots are already pretty much "classic" alternative rock.
It happens every 20 years or so: radio program directors looking for ways to hit the lucrative 25- to 49-year-old demographic create a new term to describe the hits of yesteryear--e.g. "oldies" for the '50s and "classic rock" for the '60s and '70s. Via time-tested methods of research and listener response, they whittle that music down to a few hundred sing-along songs, which in turn become a sort of canon of demographic-specific music, and it's all packaged just for you: Your oldies station. Playing your classic rock hits from the '60s, '70s, '80s, '90s, '00s and beyond.
"Radio stations will always be going for that audience of an age range of 25-49," says former Rolling Stone editor Ben Fong-Torres, "and they will play the music that the audience at any given time remembers from college and high school--you know, the prime music-loving years."
The formula works because, when it comes to music, nostalgia rules. As the old saying goes, your favorite music will always be what you were listening to when you started getting laid--or really, really wished you were.
Gen Xers are getting their very own taste of nostalgia--Sunnyvale's KCNL is calling it "Adult Alternative." Having lost its virginity to New Order, Violent Femmes or Nirvana anywhere from 10 to 20 years ago, the Alternative Nation is all grown up now, and fast becoming a prime target demographic. Like the baby boomers before them who turned on, tuned in, dropped out, then tuned back in, got a high-paying job and bought a Lexus, alternative kids are now starting families and succeeding in lucrative careers--just the sort of juicy, prime slice of demographic that make advertisers drool.
Granted, it's only been about 10 years since alternative music hit its high water mark in the late '90s, when Green Day got pensive and hoped you had "the time of your life," and bands like Nirvana, Nine Inch Nails, the Red Hot Chili Peppers and Sublime were at their peak. But with new digital music technology enabling people to discover and curate their own music, radio that doesn't keep up with listeners' tastes is dead meat, and what used to be a 20-year cycle is now a tightening spiral.
The South Bay's only station playing '90s alt-rock--KCNL, the Clear Channel station commonly known as Channel 104.9--is aiming ahead of the curve, targeting a core 25- to 34-year-old demographic with hits by all of the previously mentioned bands, plus plenty of unexpected digs like They Might Be Giants and Marcy Playground, as well as a smattering of "active rock" for the kids (Modest Mouse, Nada Surf) and some bones for the older crowd (The Clash, The Ramones, The Police).
Gone Daddy Gone
It's a strategy that apparently wasn't impressing corporate execs at Clear Channel just over a year ago. Strangely--and suddenly--the station went off the air in January of 2006, replaced by "Enamorada," a Spanish-language station playing Boleros and contemporary Spanish-language pop hits, which Clear Channel hoped would capture the audience left behind when Univision's KBRG (100.3) switched to traditional Mexican music.
The change happened not long after Clear Channel's other local rock station, 92.3 KSJO, became the traditional Mexican music station "La Preciosa."
"All of a sudden, you turned on your radio at five and it goes from AC/DC to mariachi music," says Dayna, a DJ at 97.3 Alice in San Francisco, who worked at KSJO when it changed formats. "Everyone was text messaging each other, and none of us wanted to answer the phones for like a week. But I really didn't think that would happen to Channel ... I didn't think they'd do it to another station in the building."
It did--during the New Year's holiday when some of the staff was on vacation.
"I was the program director," says John Allers, known on the station as "Johnny X." "At the time I happened to be on vacation and the management above me saw an opportunity to focus on the Hispanic market, and they wanted to capitalize on it. It happened quickly just because of the changes within the Spanish market. I wasn't a part of the decision, but I realize why they were inspired to make that decision."
Though he speaks diplomatically about the changeover, Allers allows a moment of nostalgia.
"From an artistic standpoint," says Allers, "we certainly put a lot of work into the station over the years and created an audience. So from a nostalgic, artistic side, it was a little bit sad."
To some rock fans, it was downright maddening, and a backlash followed, beginning as an online petition at www.petitiononline.com/1049, and finally landing on a dedicated website, www.savechannel1049.com. The commentary ranged from plaintively passionate to borderline racist as fans interpreted a business decision to change target markets as some kind of Spanish-language radio takeover conspiracy. But they continuously peppered Clear Channel execs with emails and phone calls lamenting the loss of the rock format on 104.9. Amazingly, Clear Channel listened.
I Will Buy You a New Life
On February 28 of this year, as suddenly as it changed to Enamorada, the station changed back, starting with U2's "Beautiful Day" and cramming into its first hour songs by The Killers, Dramarama, Blur, Three Days Grace, The Raconteurs, No Doubt, English Beat, Gnarls Barkley, Garbage, 30 Seconds to Mars, Nirvana, Beck, Lenny Kravitz, Soft Cell and Dishwalla.
For Channel fans, it was a miraculous development. "I was totally blown out of the water," says Raymond Kawakami, the 50-year-old memory test engineer who paid for the domain for www.savechannel1049.com. "My daughter told me, 'Hey dad, listen to Channel 104.9 tonight.' She had heard about it from people that were talking about it on MySpace."
Greg Kihn, the morning DJ for KCNL's sister classic rock station KUFX, says "It's like the Raiders moving back to Oakland. It's really unique and it rarely happens, and I hope the people of San Jose realize how cool this is."
Others speculate that Clear Channel is just getting it ready to sell. On the radio industry bulletin board, www.radio-info.com, one poster speculated that "another way to look at this is that the sale of Clear Channel to private investors may include the sell off of grandfathered stations, per FCC market definition policy. In this case, the San Jose 'market' stations would have to be sold, and the 'station in a box' Channel format will be cheap to run and make for a better sale prospect."
But the corporate line is that the decision to return Channel 104.9 was "based on overwhelming listener requests and community feedback." Station manager Justin Wittmayer insists that this is not a euphemistic way of saying that Enamorada was tanking, although according to the ratings in fall of 2006, the station was ranked 24th in San Jose and claimed only 1.3 percent of the 1.4 million-person market; whereas when it was an alternative station, it had claimed 3.4 percent of the market a year earlier.
Still, Wittmayer says the decision was based less on the lukewarm reception of Enamorada and more on the persistent demand he heard for Channel, which convinced him to champion the rock format to corporate. "We fought for almost a year and a half to get it back on the air," says Wittmayer.
To prove the demand was there, Wittmayer and Promotion Director Michael Solari got some outside sponsorship and set up www.echannel.com, an Internet-only alt-rock station that operated out of a souped-up Scion.
"We programmed it really close to Channel 104.9," says Wittmayer, "so the feedback we heard was, 'Hey this station sounds like Channel, that channel went away, that was my favorite radio station!'" Wittmayer says he used those recorded responses as evidence to present to his corporate masters.
"So I'm collecting emails and voicemails on a weekly basis and compiling all this information and sending it to corporate," says Wittmayer. "[The decision] came from listening to the people ... the petition, websites, MySpace, e-mails, letters, and interacting at events. Corporate finally got overwhelmed with the listener demands and put the station back on the air."
"It's like the first time that that's ever happened, that the people have taken over," continues Wittmayer, "I mean it's like the people spoke and we listened and they have it back and it's insane--anywhere you go it's already on, people are going absolutely nuts."
Hang the DJ
The station's playlist is designed to be irresistibly catchy to the rock fan aged 25-34, and after days of listening to Channel, I'd say it's almost embarrassingly successful. As a 30-year-old who spent years listening to L.A.'s alternative station KROQ in the mid- to late-'90s, I've found myself waiting hours to hear a song on Channel I don't know by heart. Not exactly the "dare to be different" mentality of the edgier alternative stations in the '90s.
Also, time did strange things to some of the music. Some bands I hated in the '90s were sounding slightly better with age (Harvey Danger), but even the ones sounding worse (Soul Asylum) hit the "flashback" nerve in my brain. The nostalgic experience is richer than, say, the one I get from my iPod, even though my iPod has about 10,000 songs--compared with Channel's active playlist of about 500.
That's right--the library in my iPod is about 20 times the size of a radio station's active library. How's a station to compete?
The easy answer is that people like the simplicity of flipping on the radio to listen to music. But more importantly, a good programming staff knows their audience and can cue up an interesting and varied mix that brings in the numbers without ruining credibility with too much pandering. Great DJ personalities also spice up a station's offerings.
But the strange thing about the new Channel 104.9 is that it doesn't employ any DJs. On the Internet, user-generated content is all the rage, and Wittmayer is trying to make it work for radio. To test the theory, Channel bought two Scions and tricked them out with touchscreens that interface with the station's MP3 library, allowing listeners at remote sites to upload playlists straight to the station's program director. They're also looking for ways to let listeners use text messaging to "influence the radio station." Wittmayer hopes to channel the energy of the Internet-enabled rock activists who helped bring the station back in the first place. Apparently, that's how Clear Channel rolls these days.
"What corporate says to me is, 'If it's different, if it's a new idea and it's out of the box and it's something unique and it's crazy and it could get to the listener, we'll do it,'" says Wittmayer. "'But we're not gonna do what we normally did. We're not gonna give you X amount of dollars for keychains or stickers. We want you to do something that people are going to be able to see and interact [with].' We wanna take it to the street and we wanna show people what radio is all about."
Ironically, the "user-generated" approach to programming the station might ultimately skew it towards the tech-savvy (and less profitable) youth market, which is quickly embracing technology beyond radio. MP3 players have made it easy to carry huge libraries in your pocket. A growing crop of Internet radio services like Last.fm and Pandora use recommendation engines to select music tailored to your preferences and stream it onto your computer. Satellite radio devices are getting smaller and smarter--a handheld player called "Slacker" even allows you to skip songs you don't like, and uses that information to build you a personalized "station" that's continuously refreshed with new music.
But even the future of Internet radio is in doubt. File sharing sent the Recording Industry Association of America on the warpath, and a recent court decision has given teeth to their insistence that Internet radio stations pay hefty, retroactive royalties for streaming music.
"It impacts all broadcasters, big and small," says Ben Fong-Torres about the new fees, "it's not just online companies that are affected, but Clear Channel as well because they all have website presences and may have to pay a much stiffer royalty, back to '06. So it's gonna put a lot of these more independent webcasters out of business."
Nevertheless, Fong-Torres thinks the RIAA's desperate attempt to milk Internet radio will probably backfire. "It will probably just drive people to pirate operations and DIY situations and more listening to their own CD collections ... finding music through technology, which is always out there, peer-to-peer sharing networks."
But traditional radio still has a couple things going for it that no other medium can touch (yet). First, it's singularly accessible, because radios are still cheap and omnipresent--they're built into most stereos, cars and even some MP3 players. But also, radio stations tend to cultivate their local presence via promotional activities like ticket giveaways and organizing special concerts--both of which Channel intends to do, and both of which would benefit the ailing live music scene in the South Bay, as well as listeners like Raymond Kawakami, who enjoyed Channel's music, but liked frequently winning their contests even more.
Before it went off the air, Channel hosted bands like 311 and Franz Ferdinand playing acoustic sets at the Blank Club, and Wittmayer says we can expect more of the same. Their first major concert, "Channel 104.9 Day on the Meadow" on July 3, does not have an official lineup, but Wittmayer says they'll most likely have a current act, someone from the '90s and someone from the '80s.
Who knows, if you're an alternative rocker between the ages of 25-35, it might even be the band that was playing when you first got laid.
Send a letter to the editor about this story.