April 4-10, 2007
home | metro silicon valley index | silicon valley restaurants | review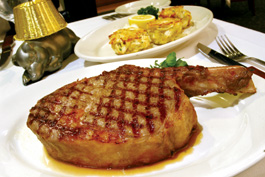 Photograph by Felipe Buitrago
Prime Time: Chicago-style bone-in ribeye at Morton's.
Here's the Beef
Morton's is part of the San Jose steak explosion
By Stett Holbrook
Steakhouses are popping up in downtown San Jose like 2008 presidential candidates. The city calls itself "The Capital of Silicon Valley," but "Welcome to San Jose—How Do You Want Your Steak Cooked?" might be a better slogan.
Within just a few blocks, I now count five houses of steak: Arcadia, Grill on the Alley, A.P. Stump's, Blake's, Picasso's Grill and newcomer Morton's, a Chicago-based chain of restaurants with more than 80 locations across the United States and abroad.
Morton's filled a ground floor space in a squat glass and concrete building on Park Avenue that sat empty for years. Too bad it couldn't better fill the bigger void in downtown's dining scene.
At most restaurants, you get a menu as soon as you sit down. Not at Morton's. A couple of minutes passed after my table was seated yet we hadn't received menus. I was getting hungry. The restaurant had only been open a month on my first visit, so I was willing to cut them a little slack, but handing out menus is a detail they should have down on day one.
I asked our friendly waiter what was up and he said he would be right back with the "menu presentation," a kind of show-and-tell that diners must sit through before they can actually look at a menu. Repeat customers can forego the presentation and request the traditional paper menu. Or just eat at the bar and avoid the whole thing.
But this was my first time at a Morton's and I was game. Sure enough, our jovial waiter came right back pushing a little cart in front of him. It was stacked with cellophane-wrapped cuts of meat, fat spears of asparagus, one big potato, a tomato, a head of iceberg lettuce and other vegetables as well as a live Maine lobster that looked like it wished it was somewhere else.
With a Vanna White-like sweep of his arm, our waiter gestured to the cart and uncorked his well-rehearsed speech. He introduced the different cuts of steak and among other things explained that the big potato held in his hand could be transformed into mashed potatoes, should we so desire. When he picked up the lobster for us to see, its legs clattered on the silver platter in protest.
Once the show was over, I expected the waiter to wheel the lobster back into the kitchen where it would go back in the tank to await its fate. Instead, another waiter snatched the cart and wheeled it away, lobster and all. As I watched the blank faces of another table of diners listen to their waiter's speech, I couldn't help but think about that hapless lobster. As if getting pulled from the water to bump along the dining room atop the little cart wasn't bad enough, the crustacean had to endure an endless loop of the "menu presentation."
"Kill me now," I thought I heard it say as it rolled by on the way to another table.
I really don't see the point of the meat and veggie show. I doubt it increases steak sales, since most people are probably coming for the steaks anyway, and I don't think the visual of plastic wrapped beef does much to nudge those who are on the fence. And since most diners know what the raw ingredients for mashed potatoes and grilled asparagus look like, I can't imagine the vegetable presentation is much of a revelation.
Once the show is over, and you finally get your menu and order, it's time to eat. And spend money. While served in huge, only-in-America-size portions, the food doesn't come cheap. Full-size steaks start at $44 and are served a la carte.
There are several salads and appetizers to choose from. The ones I tried were fine, but nothing special. Grilled asparagus ($10.50), a log pile of green spears as big as cigars, is simple and good. The crab cakes ($13) are filled plenty of crab, but the flavor was flat and they needed a good squirt of lemon to bring them to life. The colossal shrimp Alexander ($16) are indeed big but otherwise unremarkable, even with the beurre blanc that coated them. Although it drowned in too much blue cheese dressing, the hulking, bacon-showered iceberg salad ($10.50) was good comfort food masquerading as a salad. It's enough to feed two.
So what about the steaks already? The steaks I tried were quite good, delicious even. The prime, corn-fed beef is wet-aged for up to three weeks and it yields incredibly succulent meat. The charred, beautifully caramelized exterior of my 20-ounce New York strip ($44) seemed to dissolve upon contact with my tongue. My teeth were hardly necessary. I could only eat half of it, but every bite was memorable. If ingesting nearly a pound and a half of beef isn't for you, there are several slightly smaller steaks like the excellent rib eye, a wee 16-ounces for $36.
I expected more good things from the double rib lamb chops ($39), but, while tender, they were ringed with too much fat and had a mild but otherwise unremarkable flavor in spite of their crusty, charred exterior.
You roll the dice ordering fish in a steakhouse, and so I wasn't surprised that the black and white sesame-encrusted tuna ($32) came up short. Searing tuna and serving it rare is standard practice these days. The tangy, caramelized outside is a great contrast with the satiny texture and briny flavor inside, but coating the fish with such a thick mantle of sesame seeds obscures those distinctions.
The desserts I tried were big and boring. Morton's "legendary hot chocolate cake" ($11) is the restaurant's take on the same molten chocolate cake you can find just about anywhere, except theirs doesn't ooze chocolate the way it's supposed to. Upside-down apple pie is ($11) is serviceable, but skip the mixed berries with sabayon ($8.50). It's nothing more than a plate of raspberries and/or strawberries that surround a dollop of sabayon sauce that tastes more like whipped cream than the egg yolk and wine sauce it's supposed to be.
I imagine Morton's ideal customers are male business travelers looking for something familiar and eager to live it up a little on the company's dime and eat the kind of large portioned, over-the-top, high-calorie fare they can't get away with at home. With all the hotels nearby, I'm sure they'll come in droves. While the steaks are indeed good, the restaurant doesn't offer enough for the rest of us.
---
Morton's The Steakhouse
Address: 177 Park Ave., San Jose.
Phone: 408.947.7000.
Hours: 5:30-11pm and Mon-Sat, 5-10pm Sun.
Cuisine: Steakhouse.
Price Range: $32-$51.
Send a letter to the editor about this story.