April 4-10, 2007
home | metro silicon valley index | the arts | books | excerpt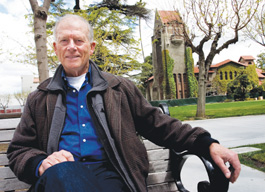 Photograph by Felipe Buitrago
Native Son: SJSU alum Jim Houston returns to San Jose April 12 to talk about his new novel.
Intimate Dance
James D. Houston's new novel, 'Bird of Another Heaven,' explores the links between Hawaii and California
By Rick Kleffel
ON THE FIRST PAGE of James D. Houston's new novel, Bird of Another Heaven, we encounter the real-life last king of Hawaii, David Kalakaua, in 1891, in the Palace Hotel in San Francisco, on what would prove to be his deathbed. A representative of the Edison General Electric Company has come to demonstrate to the king an incredible new technology that will allow him to record his voice on a wax cylinder.
"At the time I first heard the story," Houston says, "it came with a kind of context of conspiracy theory. ... Do we really know what the king said on that wax recording?"
Bird of Another Heaven plumbs that mystery and finds layers of generational family stories that stretch from the Sacramento River Delta to the shores of Hawaii. The story starts in 1987 with Sheridan Brody, a radio talk-show host who finds that he has a grandmother he never knew—and beyond her, a great-grandmother named Nani Keala, who may have attended the king in his final hours as his voice was recorded for posterity.
Brody's newly discovered grandmother slowly hands over her own mother's diaries, and Nani's story unfolds just as Brody sees his radio station consumed by a multinational conglomerate. Delving into the diaries, he imagines his great-grandmother's life while his own world threatens to unravel. Within the past, he may be able to find a path to the future.
Houston's novel is an intimate epic, exploring the complexities of families and generations as California rises and Hawaii falls. "The central character in this novel," Houston explains, "is Nani Keala, who is half-Hawaiian and half-California Indian. She was born in the Sierra Nevada foothills in the 1860s and ended up having an extraordinary life, an almost mythic life."
Then, he continues, "I had to develop a character who is the narrator of the novel, who is the great-grandson of this woman, and he discovers in the midst of his life a part of his family legacy that was kept out of sight by his parents.
"I had a similar experience in my own life," he says. "My grandmother, who was a very sweet Tennessee mountain fundamentalist Christian lady born in the Appalachians in the 1880s, moved down to Huntsville, Ala., in 1900, and she married a guy who was half-Indian—half-Cherokee. But I didn't find out about this for a long time."
Sense of Place
Houston has spent much of his life in Northern California. He attended San Jose State as an undergraduate in the 1950s, where he majored in drama and met his wife, Jeanne Wakatsuki Houston. Last year, he returned to SJSU to take the Lurie Chair as a Distinguished Visiting Professor of Creative Writing, where one of his classes met in a room he had sat in as a student. Much has changed in the intervening years. "The makeup of the student body is fascinating," he observes, "the cultural diversity is really quite wonderful. My wife and I, when we started dating, we were the only interracial couple on campus. Nowadays, you sort of stand out if you're not an interracial couple."
Houston lives in Santa Cruz in a Victorian once owned by Patty Reed, a survivor of the Donner Party and the subject of Houston's novel Snow Mountain Passage. Houston had never thought of himself as a historical novelist until he moved into that house and learned of its previous owner and her past. "We didn't know that the house had a history when we moved in," he tells me. "It was just the cheapest place we could find in Santa Cruz at the time."
For Houston, all characters start with place, and the more he learned about the house and Reed, the more intrigued he became with creating its history as fiction. "Later on, we found out it had this extraordinary history, but I'm always thinking of that relationship between the character and the place, so wherever a person's located is part of the character development for me, right from the beginning."
Bird of Another Heaven explores little-known histories in both Hawaii and California. One of the highlights of the novel is Houston's evocation of Gen. John Sutter and the birth of Sacramento. "Only a couple of explorers had preceded him, and [they] left behind very sketchy maps," Houston says. "He was sailing into a world of tribal villages with six white sailors and 10 Hawaiians. The truth is that the first buildings that were erected at what is now the capital of the biggest state in the United States were Hawaiian grass houses."
Houston offers the ties between Hawaii and California not just on a grand scale but also in terms of complex characters closely examined. Houston has long been a student of Hawaiian history. With anthropologist Ben Finney, he co-authored Surfing: The Sport of Hawaiian Kings, which started out as a thesis at the University of Hawaii.
"In Polynesian studies," Houston says, "surfing is like baseball or football, a national pastime, a way to understand the culture. In the 18th century, pre-contact, the only place you found surfing was in the Pacific Islands. By the mid-19th century, the only place you found surfing was Hawaii. It had been discouraged by missionaries, who thought it was obscene and lascivious because Hawaiians surfed without clothes. They had a rich tradition of board building and there was an oral literature about great feats of surfing and surfing legends. Surfing in Hawaii is a key to cultural history. And today, all surfing anywhere on the planet originated from Hawaii."
For the past 20 years, Houston has been working with Eddie Kamae, the legendary Hawaiian singer and performer. "He's the Woody Guthrie of Hawaii," Houston explains. "I was privileged to be invited by him to collaborate on his first cultural documentary on Hawaii. We ultimately did seven documentaries together." These lead to Hawaiian Son: The Life and Music of Eddie Kamae, Houston's 2004 biography of the multitalented musician.
From the mid-1980s to the mid-1990s, Houston was deeply involved in the Hawaiian Film Festival. "The festival was started by people who wanted to have an event in Honolulu that would be accessible to the entire community, so they wanted to have the films free of charge. They wanted to feature films that came from the Asia-Pacific region and somehow spoke to themes of cross-cultural understanding and relations. The theme every year was 'When Strangers Meet,' and that's the idea we brought to Santa Cruz. It was the direct result of that involvement that got the Pacific Rim Festival started here in Santa Cruz."
Bird of Another Heaven represents another marker in Houston's interest in Hawaii, particularly King Kalakaua. "I'd been fascinated with Kalakaua for a long time because he was a man of extraordinary talents and huge appetites," Houston says. Those appetites were used by his enemies to help bring about the collapse of the Hawaiian empire—with the aid of some handy U.S. Marines, who helped to craft what was called the "Bayonet Constitution."
Kalakaua traveled the world and, in 1891, fell ill in San Francisco. But before his death, he brought about a rebirth of the Hawaiian culture, which had been systematically erased by three generations of missionaries. When he was elected king, he single-handedly brought back the ancient traditions of the hula dance, long condemned as obscene.
"The rebirth of Hawaiian culture begins with Kalakaua's coronation," Houston relates, "when he said to the missionaries and all these uptight conquistadors who were trying to take over the islands, he said, 'This is who we are and this is where we come from.'"
James D. Houston appears Thursday (April 12) at 7:30pm for a Q&A in the Second Floor Meeting Rooms 225-229 at the Dr. Martin Luther King Jr. Library, Fourth and San Fernando streets, San Jose. The event is sponsored by the Center for Literary Arts at and is free. (408.924.4600)
Bird of Another Heaven by James D. Houston; Knopf; 337 pages; $25.95 cloth.
From Chap. 1 of 'Bird of Another Heaven'
Four days before he died the last king of Hawai'i spoke into a recording machine while propped up on pillows in his suite at the Palace Hotel. There are two versions of what he said that afternoon and why he said it. The official version, released to papers and soon featured in ads by the Edison General Electric Company to promote their new device, has been often quoted. I heard the unofficial version from my grandmother, who heard it from her mother, who happened to be there in the hotel at the time, a half-Hawaiian woman who in earlier years may have been the king's lover. Here again there are at least two versions of what went on between them, since the king's abundant personal life is to this day a source of mystery and wonderment and frequent debate.
During his seventeen years on the throne his detractors called him promiscuous and dissolute, a man whose addiction to the pleasures of the flesh left him incapable of ruling anything, let alone a mid-Pacific kingdom. In my view this was too harsh a judgment, given the way he'd been trained from youth. At his birth, as was the custom among high-born Hawaiians, a song was composed to celebrate his genitals, to give them a name, and to prophesy what feats they would accomplish later on. With this as your infant lullaby (and it was only the first of dozens of songs about his private parts that he would hear at parties and festive occasions throughout his life), what else could anyone expect? As a man of chiefly lineage, it was an inherited duty to display his prowess and spread his seed, and this was a duty he had not shirked. But as of January 1891, as King David Kalakaua lay in his bed above the muffled flow of trolley cars and carriage traffic along Market Street in downtown San Francisco, those feats were far behind him.
He was 54, and pale, in failing health. His once-commanding eyes had lost their lustre. One attending physician said he suffered from a malarial fever. Another said it was an affliction of the kidneys. If pressed, my grandmother would have passed on what she once heard from her mother, who told her that these symptoms had come on too suddenly, that the king's health had been tampered with—a theory that may or may not hold up, depending on who you talk to. That great-grandmother of mine, I think she had a paranoid streak, which is not uncommon in the Hawaiian Islands. It made her susceptible to conspiracy theories of every type. On the other hand, she was there when these things happened.
The official version goes like this.
Sometime in the middle of January a man named Louis Glass, local manager of the Edison Company, had come to the hotel and asked the king's attendants if he might not enjoy having his voice recorded. Hearing Glass's request, the king said bring him in. His illness, whatever it was, had not dampened his keen interest in new inventions. He took pride in keeping pace with the modern world. As soon as he'd heard about the telephone, two years after it was invented, he ordered several to be shipped to Honolulu and installed in the royal household. So it was arranged that, next to his enormous bed, an intricate contrivance was set up, made of small wheels and pulleys and accoutrements of polished metal. A length of flex hose rose to a conical mouthpiece. There was an armature with a pointed stylus resting on a cylinder the size of a thick candle and made of chocolate brown wax.
Glass explained that by speaking into the tube, one's voice was transmitted through the needle and impressed into the wax in a thin spiral of tiny peaks and valleys, from which the sound could then be reproduced.
"You mean my voice will be preserved?"
"That's correct, Your Majesty."
"Everything I say?"
"Every word."
"I find this amazing."
Glass pushed the phonograph a little closer to the bed and waited. The king's physicians waited too, as did his aide-de-camp, and his chamberlain, a colonel in the Hawaiian Guard, there to keep the world at bay as well as to observe the monarch's every move and conversation. For his island kingdom these were perilous times. Any misstep could be costly. Before falling ill he'd been en route to meet with President Harrison, some said to seal a deal that would seal the fate of his people and finally annex Hawai'i to a foreign power. Ahead of him, in Washington D.C., influential senators were lobbying for a permanent hold on Pearl Harbor, said to be the finest anchorage in the Pacific, while behind him, overseas American sugar growers were pressuring to maintain low tariffs that had already made them wealthy. The king, caught in the middle of these negotiations, had so far been keeping his intentions to himself.
He reached out as if to grasp the mouthpiece, then shut his eyes against a wave of fatigue. Glass waited for the eyes to open. A labored, steady breathing told him the king had dozed off.
The next day he returned, and now Kalakaua was ready to be raised, to have his body positioned so that, without moving his head, he could hold the speaking tube to his lips. The words came slowly, his voice ragged.
"Aloha kaua," he said. (Warm greetings.) And then again, "Aloha kaua . . ."
Perhaps he was addressing his subjects back home, or perhaps the strange power of the machine itself. Or perhaps both. Speaking in Hawaiian he went on, "We will very likely hereafter go to Hawai'i, to Honolulu. There you will tell my people what you have heard me say here . . ."
He paused, as if on the verge of a larger thought. But his energy failed him. He fell back upon his pillows and closed his eyes, inhaling with great effort. Again Glass waited, again the king was silent, exhausted.
Three days later he fell into a coma, and within one more he had died in his room at the Palace Hotel at 2:35 p.m. A U.S. Navy cruiser carried his body back to the islands. The wax cylinder followed on another ship and thereafter was only played with the consent of Kalakaua's widow. While many others heard the faint and graveled message, she was too bereaved to listen. Soon afterward the monarchy was overthrown by a coalition of island businessmen and American marines. In the ensuing turmoil the cylinder disappeared. Hawai'i moved into the 20th century firmly joined to the United States, and the king's last and all too brief public utterance was but another lost gesture from a royal family whose moment in history had come and gone.
So goes the official version. But according to my grandmother, the king had a good deal more to say that day.
Reprinted by permission of author. Copyright © 2007 James D. Houston. Published by Knopf.
Send a letter to the editor about this story.