April 4-10, 2007
home | metro silicon valley index | the arts | stage | review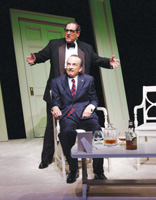 Photograph by Pat Kirk
In Retrospect: Even Kissinger (Peter Van Norden, standing) and Nixon (David Pichette) look good in comparison to the Bush administration.
Power Play
San Jose Rep imagines a night of politics and paranoia with Kissinger and Nixon
By Marianne Messina
IT IS irresistible to wonder what goes on behind closed doors at the very seat of power, as Russell Lees' play Nixon's Nixon illustrates at San Jose Repertory Theatre. Lees has done well in extracting universal "human struggles" from the particulars: a meeting between President Richard M. Nixon (David Pichette) and Secretary of State Henry Kissinger (Peter Van Norden) the night before Nixon resigns. But if you're a history buff, those particulars may turn out to be the elephant in the Lincoln Sitting Room. Lees isn't offering fly-on-the-wall status or especially new insight into this particular enigmatic relationship and moment.
The play uses the facts, puts two men in a room charged with power and sets off a humorous horserace of jockeying agendas. Kissinger wants to stay powerful; Nixon wants respect. Nixon continually refers to honors he didn't receive. "You won the prize" (Nobel Peace Prize), he reminds Kissinger. He dismisses his administration's war casualties with "Boys died. If you're president, that's part of it." Then, after citing Civil War casualties, he nods at the painting of Abraham Lincoln propped against stacks of white boxes and snaps, "and he's on Mount Rushmore." All Nixon got was "the beardos and the wierdos go[ing] berserk." Lees' dialogue highlights their differing styles. Nixon conveys meaning in a gestalt of unspoken things. Kissinger stays on point (mostly the point about remaining secretary of state), easily batting aside Nixon's barrage of half-formed thoughts. The humor is often sardonic. Both men agree that "Gerry" (Gerald Ford) is "a good and decent man," and then after a beat, they burst out laughing. Director Michael Butler steers Lees' material—the manipulations, the egos, the way Nixon can both play and be played by his paranoia—away from darker readings toward an experience that warrants an intrigued smile.
As Nixon, Pichette's lines rarely have a fearsome or hostile bite, partly because his natural voice never quite evokes the formidable rumble of Nixon's lower register. Lashing out at Kissinger with, "Look here, Henry, I dragged you off the Harvard shit pile," he seems irascible, not cutting. Pichette reserves Nixon's strongest ire for a tirade against John F. Kennedy, recounting Kennedy's smugness and condescension during the meeting in which he, Nixon, agreed not to contest their very close presidential election. "The one time I didn't hammer and claw till the bitter end," Nixon tells Kissinger, "and I've regretted it ever since." Pichette's Nixon invites empathy. And yet the uncannily Nixonian way he moves and carries himself can trick the memory.
Lees enhances the levity with a hint of variety show—Nixon and Kissinger re-enacting their historic achievements by role-playing (Leonid Brezhnev, Golda Meir and others). The incongruous picture of the galumphing, deliberative Kissinger playacting in order to humor Nixon is as funny as it is skin crawly. Van Norden nails the tone and demeanor of the walrus-shaped Kissinger, and his cagey, amusing Leonid Brezhnev oozes charisma.
In a white framework of vertiginous asymmetry, the staging outlines a spacious Lincoln Sitting Room. Four-beam ceiling meets skewed door and tilted floor at disturbing angles. And the white ceiling fan, suspended like a planetary mobile, draws the eye like some centrifugal power seat. On this same set, Butler gives each historic memory a unique atmosphere in light and sound, creating the most striking blend of elements as the two men stand on the Great Wall of China. As the chill wind sounds all around, an eerie red glow sweeps the floor, met from above by twilight blue. "I'd build this wall," says Nixon, "and my kingdom would be secure." The cocoon of somber color and soft wind enchants, embodying the seductiveness of both security and power. But the ironic history of the Great Wall represents a security as illusory as a safe zone made of light and sound.
Nixon's Nixon, a San Jose Repertory Theatre production, plays Tuesday at 11am (April 4 only) and 8pm, Thursday-Friday at 8pm, Saturday at 3 and 8pm and Sunday at 2 (except April 8) and 7pm through April 22. Tickets are $14-$56. (408.367.7255)
Send a letter to the editor about this story.