April 4-10, 2007
home | metro silicon valley index | music & nightlife | essay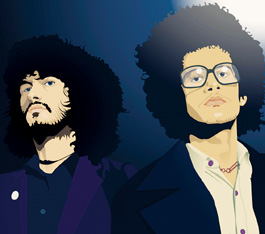 felipeiglesias.cl
Cartoonishly progressive: The Mars Volta is way better than Genesis.
Prognosis
Prog rock isn't dead—some of it just smells funny
By Karl Byrn
ROCK'S RECENT retro styles, like neogarage and neo-dance punk, typically have short shelf lives. An intriguing exception is new the prog rock. Many current acts are following the old-school prog-rock ideals of complex song suites, medieval and sci-fi references and masterful musicianship. The results vary wildly, as neo-prog pursues creative choices that aren't dependent on the classical and troubadour models of early British prog.
But the success of neoprog troubles me. I swore off progressive rock 30 years ago. I loved first-generation classical (or "art") rock as an intellectual '70s teen, but later in college, my exploration of punk, oldies, country and jazz led to quick trips to used record shops with tired Emerson Lake & Palmer LPs. Immersed in the Clash, Hank Williams and Sonny Rollins, I learned that the Moody Blues, minus symphonic backing, were as insipid as a pair of clean white socks.
Punk threw prog into a state of cultural shame, marked by Johnny Rotten's infamous "I Hate Pink Floyd" T-shirt. But prog never really died, living on through the cool '80s hits of Canadian rockers Rush, and through '90s jam bands like Phish, Umphrey's McGee and Moe. Alt-rock leaders Radiohead are full of prog elements. The original prog albums, the Beatles' Sgt. Pepper's Lonely Hearts Club Band and the Beach Boys' Pet Sounds, continue to be huge influences on the micro-instrumentation of current indie rock.
What have new prog acts learned from 30 years of choices? The fallacy of original prog was its assumption that fanciful, sophisticated European music is superior music, coupled with the erroneous illusion that there's superior depth in lyrics about wizards and space travelers that use words like "whilst" and "thee." New prog, more often with American or world roots, achieves results not with the length of songs or intricacy of themes but with a solid emotional core.
The Mars Volta, for example, create a Latin space-metal that holds some of prog's best and worst traits. Meandering? Obtuse? Yup, just like Pink Floyd, Yes and Genesis. But also like those originals, the Mars Volta occasionally show a flair for tight rock structure and can pull snappy moments from their swirling void. Singer Cedric Bixler-Zavala is often close to the emotive Peter Gabriel of early Genesis, an aching, overachieving, very human presence elevating music that's less complex than it seems.
A more complete and balanced example of neoprog is Portland's theatrical alt-rockers the Decemberists. On their acclaimed 2006 disc The Crane Wife, the band play conventional melodic indie rock, but also employ prog basics to stir emotion. Their Bach-rock keyboard triads and historical tales aren't ponderous or exhibitionist, but instead highlight a very human core.
New prog-rock headbangers use less obvious prog DNA, but do show the lesson learned from heroes King Crimson and Jethro Tull that prog can escape lightweight whimsy with healthy doses of gnarly noise. Thrashers Mastodon are supremely technical, and Swedish death-metallers Opeth paint dark Nordic sagas with extended concepts. A compelling enigma in heavy prog is Porcupine Tree, who mutate with every disc, sounding first like driving grunge and then like spacy Krautrock.
Prog's worst traits, like lack of focus and faux grandeur, have surfaced in two popular acts, emo-rockers Coheed and Cambria and Bay Area chamber-folk sensation Joanna Newsom. Coheed and Cambria are a decent emo band, but showed inane self-importance naming their 2005 concept album Good Apollo, I'm Burning Star IV, Volume One: From Fear Through the Eyes of Madness. Newsom's sophomore disc Ys, with five songs that range in length from nine to 17 minutes, has a yearning, playful warmth, but her drawn-out subtlety seems like a plane that circles the runway without ever taking off.
The final worth of neoprog is its validation of the album as an art form at the very moment when the album per se is out of favor. This is more important than any change in prog's musical genetics. I just wish neoproggers wouldn't waste so much of those albums committing the sins of their fathers.
Send a letter to the editor about this story.