April 4-10, 2007
home | metro silicon valley index | movies | current reviews | film review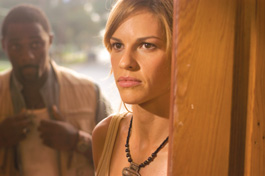 Photograph by Gene Page
Signs of the apocalypse: Idris Elba and Hilary Swank play miracle hunters in 'The Reaping.'
Grim 'Reaping'
Hilary commits Swank nonsense
By Richard von Busack
A CERTAIN STYLE of horror film—BOO!—depends on going for the startle—NAH, IT WAS JUST THE WIND, BUT LOOK OUT THE WINDOW!—which is supposed to keep the viewer in a mood of—SLAM! NO, IT WAS JUST THE CAT—constant jitteriness—MOVE THE MIRROR, CHANGE THE ANGLE, YIPES! AFRICAN WITCH DOCTOR! The audience jumps on cue, but eventually the constant jumpiness—DON'T WORRY, WE WON'T SHOW YOU THE CORPSE—just causes general irritation—WAHOO! COMPLETELY GROSS! Working the reflex action as thoroughly as a doctor wielding a little rubber mallet, The Reaping compounds this irritation with showily randomly rack-focused camerawork. Director Stephen Hopkins aims for a neo-documentary effect, but the calculation is as fake as any old-time rubber-bat, squeaky-floor spook show. The release of this skunk so close to Good Friday ought to infuriate atheist and believer alike.
Hilary Swank plays Katherine Winter, an Amazing Randette pro at LSU who has debunked many supposed miracles. Hard work, yes, but it allows her to badger her students about the nonexistence of miracles. Her assistant Ben (Idris Elba, Stringer Bell on The Wire) is a black man with bullet scars, a devout Christian who is there to smooch the cross around his neck, crunch numbers and lament about how his boss lost her faith. He is wise to the situation: "I do know these are visibly biblical events!" Nothing is going on between the Ben and Katherine, although they josh about it. Such a romance was a natural way to fix the racism inherit in the Dark Continent flashbacks. As it stands, these visions are so wonky that Katherine has to tell us the whole story of how she lost her Christianity—and her husband and child—in Africa.
Before we get that revelation, Katherine is asked (or is she lured?) to investigate strange occurrences in Haven, La. The river has turned to blood following the murder of a little boy. Mysterious clues abound: A child draws a scary picture in crayons. A priest (Stephen Rea) phones in warnings that he has discovered a Blue Öyster Cult logo burned into his collection of photos of Katherine. BÖC's sinister buttonhook is also scratched and scrawled everywhere in Haven, proving that Satan is afoot and that the locals still listen to Tyranny and Mutation. Taken into a haunted plantation, Katherine and Ben investigate the procession of the 10 biblical plagues: frogs, ticks and the sudden arrival of Jiminy Locust and 1 trillion of his close personal friends. Meanwhile, Katherine is stalked by a baleful little girl (AnnaSophia Robb) and disturbed by visions of bloody eggs in the frying pan. If you'd rather see healthy skin than the boil-covered kind, too bad; the jaggedy editing in a love scene shows us nothing but close-ups of Swank's tummy-double's navel. The Reaping chases The Passion of the Christ gravy train like a desperate commuter. Katherine realizes her buried faith and shakes hands with the Lord. Characters sigh, "Some folks don't want to go to heaven," and worry about the tragedy of a miracle-and-faith-free world. If there's a God, how could he permit a movie like this? Scary Movie 5, take it away.

The Reaping (R; 96 min.), directed by Stephen Hopkins, written by Carey Hares and Brian Rousso, photographed by Peter Levy and starring Hilary Swank, opens April 5.
Send a letter to the editor about this story.