April 5-11, 2006
home | metro silicon valley index | columns | silicon alleys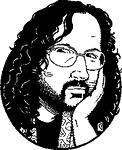 Silicon Alleys
Writing for a Living
By Gary Singh
THIS TIME, the lurid yarn actually begins in the year 2000, or somewhere around there. At that juncture, I found myself plunging toward the point where I would have no steady income except for a few periodic freelance writing gigs. And that's when the synchronicity happened.
As I sat around depressed at the prospect of being a fulltime freelance writer, constantly pitching story ideas to a billion different outlets on a daily basis, a friend told me that the first piece Stephen King ever published was a porno story for Swank. So, to cheer myself up, I went down to the liquor store and snagged an issue of Swank for further research. I got home and for some reason threw the mag on the futon without even opening it up.
Later that day, I found myself reading an article in Writer's Digest penned by San Francisco-based Larry Tritten, a veteran freelance writer whose byline has appeared in so many publications that it's impossible to keep track of them all. In the article, Tritten emphasized the wide variety of places that he's published—for example, he had just done some porno fiction for Swank as well as an informative nonfiction piece for a pet-related magazine. Writer's Digest slapped this bio statement onto the end of the article: "Larry Tritten has written on just about everything and has been published just about everywhere."
I pondered that sentence for quite some time. The comic strip bubble appeared in the air above my head and I thought, "Yeah! Someday I want to be able to say that." So this became one of my goals in life, and later that evening I cracked open the issue of Swank, only to discover that it contained the same exact story by Tritten that he had mentioned in the Writer's Digest article. Whoa, I thought. However inconsequential, this synchronicity was a defining moment in my decision to pursue writing as a career. I felt that somebody somewhere was trying to tell me something.
I'm only relaying this information now because I just recently crossed paths with Mr. Tritten, as we were both part of a pocket-size cabal of travel writers congregating in Vancouver, British Columbia. I ambushed him with this anecdote over dinner at O'Doul's, an upscale jazz restaurant. I told him he was an influence. He then recalled that he sold his first piece in 1960 for $100 and it was like being bitten by a vampire. He became a writer and never went back. I can relate, so I concurred by quoting Bukowski: "You don't choose writing. It chooses you."
Turns out Mr. Tritten is also a walking encyclopedia of word history, as he writes for a quarterly etymological journal. As we each devoured a 10-ounce rib eye with brandy and peppercorn sauce, he explained that the word "travel" can be traced back to the French word travail which has something to do with toil or labor. The word was meant to describe the performance of a laborious or tortuous task. (So, if you're considering being a travel writer, you might want to think again. It's not just, "Me and Aunt Helen went to the Uffizi," or whatever. It should involve some seriously tortuous self-reflection.)
The next afternoon we infiltrated Wild Rice, a swank Chinese fusion eatery in Vancouver's Chinatown. As we devoured plates of wild boar braised in rice wine, maltose sugar and autumn spices, Tritten informed us that the word avocado can be traced back to the Nahuatl word ahuakatl, which means "testicle." Now that's useful information.
Later, on the ferry to Victoria, we talked about the freelance writing life and I shared Tritten's concerns that a growing amount of people just don't have the attention span for narrative text anymore when it comes to mainstream magazines. If you open up one of those lad mags like Maxim, it's mostly graphic-based articles and lowest-common-denominator twaddle like, "Five ways to steal your buddy's girlfriend." What's a full-time freelance writer to do? Tritten says he will carry on as he always has, since he wouldn't know what to do if he wasn't a fulltime writer. It's all he's ever done.
Back in San Jose, I contemplated all this over cheap beers at a dive bar. I agree with Tritten. At this juncture in time, I just have to write.
Contact Gary Singh or send a letter to the editor about this story.