April 5-11, 2006
home | metro silicon valley index | silicon valley restaurants | review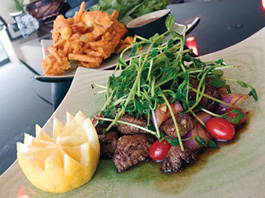 Photograph by Felipe Buitrago
Shaken All Over: Shaken beef is a trademark of the Vietnamese cuisine boom, but Saigon 75 does it right.
Bygone Saigon
Saigon 75 is distinctive Vietnamese in a revived downtown spot
By Stett Holbrook
SAN JOSE'S towering new City Hall has injected some much-needed life into downtown's soporific restaurant scene. There are a number of new and in-the-works restaurants on or near Santa Clara Street hoping to cash in on the new locus of city business. One of the best and brightest newcomers is Saigon 75.
The restaurant serves mainly traditional Vietnamese food in an upscale, Asian-chic setting. Big, bamboo-framed windows peer out onto Santa Clara Street. One wall is adorned with Buddha figurines and flickering votive candles. The one odd touch is the bland classical music that washes over the dining room. The music is particularly loud in the bathrooms, which makes your lavatory visit a strangely epic experience.
The Bay Area pioneered this upmarket Vietnamese restaurant concept with places like Palo Alto's Tamarine, San Jose's Citronelle and Vung Tau and San Francisco's famed Slanted Door. While Saigon 75's menu is similar to other like-minded restaurants with dishes such as spring rolls, shaken beef, green papaya salad and clay pot chicken, the restaurant stands out for its lively, fresh-flavored food and bargain prices.
Chef and co-owner Todd Le, a graduate of San Francisco's California Culinary Academy, named the restaurant Saigon 75 because 1975 was the last time he saw the city. That was also the year before the city's name changed to Ho Chi Minh City, a bit of nostalgia reflected in the food he serves from his native country.
The restaurant's menu is big and requires several visits to dent. Our fast and friendly waiter was eager to give his approval of dishes we ordered that he liked, too. Spring rolls are a traditional Vietnamese starter but here they're redefined with nontraditional ingredients. The crustacean roll ($8) wraps up a generous mound of Dungeness crab meat, avocado and cucumber with a highly dippable ginger soy sauce served alongside. I also liked the ahi tuna roll ($8), a translucent log of seared but still raw tuna, mango and fresh greens poking artfully out of the ends of the roll. The red squiggle of Sriracha chile sauce and the dab of Day-Glo green wasabi served on the plate allows you to doctor your roll as you see fit.
Good too is the moon cakes starter ($5), five little gelatinous rice cakes topped with a pinch of ground shrimp and fried shallots. The serrano chile-spiked vinaigrette is the perfect foil for the rich, creamy cakes. Eat these while they're still warm; the rice flour becomes rubbery as it cools.
The standout dish for me was the grilled catfish "thanh long" ($12). The turmeric-scented fish arrives sizzling on an iron platter on a bed of lightly charred fennel fronds and green onions. A separate plate is piled high with rice noodles and a tangle of cilantro, Thai basil and Vietnamese mint, a highly aromatic, saw-toothed herb that tastes like lemon grass. The fish is well charred and yet remains perfectly tender and moist. It just about dissolved upon contact with my mouth. The fennel and green onion are great accompaniments for the fish alone, but the traditional method of eating the dish is to add some of the noodles and fish to the small bowl provided, sprinkle in a few herbs (tear them to release their aromatic properties) and a dribble of pungent shrimp sauce. Anyway you eat it, it's very good.
Coming in right behind the catfish is the sour-sweet tamarind sea bass soup ($13) and the delicious lemon-grass tofu ($7). The soup makes a great first course. The gentle acidity of the tamarind has a lively, appetite-stimulating effect. The big chunks of the snowy white sea bass were great, but what I loved best were the thick pieces of Vietnamese celery, a crunchy, almost squeaky-textured vegetable that has dense but spongy flesh that soaks up the soup and makes for a juicy, intriguing bite.
The lemon-grass tofu combines big, irregular shaped hunks of tofu that are crispy outside with caramelized flavors of chile sauce and lemon grass and creamy and rich inside. The little fried bits of shiitake mushrooms and red onions were great, too.
The one less-than-good dish was the tiger prawns with garlic noodles ($15). The fat, wheat flour noodles were fine, but the four butterflied and grilled shrimp bordered on dry.
Saigon 75 isn't watering down its food to please the masses. They've got durian ice cream on the menu, for God's sake.
Durian is a beloved fruit in Southeast Asia that also happens to be one of the foulest smelling fruits in the world. Our waiter said that on a visit to Vietnam his sister hid the reeking rind of the fruit under his bed as a joke, knowing that he hated the smell of the fruit. I ordered the durian ice cream ($3) anyway. It was almost edible. Safer, more approachable desserts are the jackfruit ice cream ($3), flan ($3) and fried banana with vanilla ice cream ($5).
---
Saigon 75
Address: 304A Santa Clara St., San Jose.
Phone: 408.286.4900.
Hours: Open 11am-3pm and 5pm-10pm Tue-Sun.
Cuisine: Vietnamese
Price Range: $7-$19.
Send a letter to the editor about this story.