April 5-11, 2006
home | metro silicon valley index | music & nightlife | band review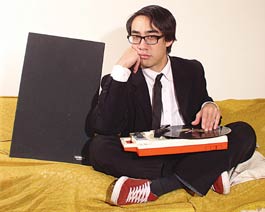 Scratch Core: San Francisco's Mike Relm might be the most entertaining DJ out there.
Fast Forward
For those about to rock the turntables, we salute you
By Todd Inoue
CAUGHT A Noise Pop show at San Francisco's Independent last weekend: Kid Koala, Mike Relm and J. Boogie's Dubtronic Science—an impressive DJ lineup for an event that every year manages to expand and diversify its styles. That the show sold out gives ample proof Noise Pop is successfully expanding beyond the guitar-bass-drums ensembles to embrace the unlimited potential of sound manipulation and technology that the turntable (and its offspring the CDJ and the DVDJ) affords.
And this threesome—with over 40 years of experience between them--were examples of how far the DJ has evolved. Along with his 'tables, mixer and laptop, J. Boogie had congas, two singers (one being reggae fixture Tony Moses), a cowbell/flautist and a sax player. Relm had turntables, a mixer, the now-ubiquitous laptop, plus a DVDJ player—a new product that allows DJs to manipulate and play back synchronized audio and video. Koala went lo-fi by comparison with just four turntables, three mixers and lots of vinyl.
With technology threatening to overtake the stage, J. Boogie controlled the momentum from his perch--swerving from hip-hop to dub to reggae to Brazilian to Latin to funk. Check his set at this weekend's Cultural Xposure event at the San Jose Museum of Art. He's been laying in the cut for a long time and his set is not to be missed.
Koala has lots of projects forthcoming. He finished his contribution to the new Deltron 3030 album. He also has a new mixtape (a follow-up to 1996's Scratchhappyland) and an untitled collaboration with Seattle DJ Dynomite D. He also has a new graphic novel about a mosquito that wants to play the clarinet. He debuted some songs from the soundtrack (just as he did on his previous graphic novel/soundtrack package Nufonia Must Fall). The tracks were typical Koala—informed by sense of movement, atmosphere and self-deprecating humor. He also performed some new routines with more of a rocking flair: cutting up Slayer's "Raining Blood" and Rage Against the Machine's "Killing in the Name Of." Two of the more moving pieces were "Moon River" (now a standard in his repertoire) and a beat suite "Moving On." Damon Albarn's voice is sandwiched between quivery waves of synth and scratch. It was darkly idiosyncratic way to open the show but revealing of his constant elevation.
But the night belonged to Mike Relm, who may be the most entertaining DJ since Koala and DJ Z-Trip. Looking more like an accountant in black suit, white shirt, skinny black tie and black-rimmed glasses, Relm killed pretensions quickly. His set reflected this nerdcore aspect, using a crowd-pleasing integration of vinyl and video. As Bjork's "Human Behavior" played on the screen behind him, Relm layered an instrumental of Run-DMC's "It's Like That" underneath while cutting up the Bjork video on the DVDJ. Watching Bjork sputter her words in spastic convulsions drove the crowd nuts. Relm repeated this formula to great success—working with Bruce Lee clips, scenes from Fight Club, School of Rock and High Fidelity, The Flaming Lips, Rage Against the Machine's "Bulls on Parade," Led Zeppelin's "Immigrant Song" and Vince Guaraldi's "Linus and Lucy" (complete with A Charlie Brown Christmas dance party). It was great theater. Relm's pièce de résistance was a beat/singalong version of John Lennon's "Imagine" cued up to a video of the DJ flipping lyric sheets "Subterranean Homesick Blues" style. The audience held up lighters and cell phones and chanted to Lennon's peace anthem. It was a rock & roll moment within a rock & roll festival conducted by a hip-hop DJ—lending credence to the belief that fuddy-duddy "DJs aren't musicians" types are antiquated and out of touch.
Send a letter to the editor about this story.