April 5-11, 2006
home | metro silicon valley index | columns | live feed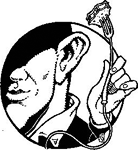 Live Feed
The New Politics Of Wine
By Steve Palopoli
BACK IN THE 20th century, if you were going to be a snob, there was no better snob to be than a wine snob. The average person might be able to get away with saying his gourmet meal was just plain "delicious," but facing the complex lexicon of wine tasting was too daunting and potentially embarrassing for most. Christ, in the '80s Orson Welles had people believing a jug of Paul Masson was the height of cultural refinement.
It's incredible how times have changed in the last 15 years. And nowhere was this more apparent than at the Pinot Paradise festival at the Mountain Winery in Saratoga. The casual atmosphere was a wine snob's worst nightmare. What's more, it was incredible to note how many mom-and-pop winemakers were manning dozens of booths in two giant tents. These are people who are not only enthusiastic about their product, they just want to chat about wine with whoever happens to stroll up. Before the sold-out event really got packed in the middle of the afternoon, it was possible to get yourself into 15-minute conversations with vintner after vintner, on a range of topics from the quality of certain grapes to great places to eat in Silicon Valley. This was, in many ways, a wine event for the rest of us.
And it fits into the context of a larger shift, as well. Over the past year, I've been visiting tasting rooms all over the state, from Sonoma County to the Santa Cruz mountains to Paso Robles to the Lompoc wine ghetto (where my favorite pinot maker, Fiddlehead, can be found) to the Santa Ynez Valley. And I can tell you one thing for certain: California is the new wine democracy. You get yourself south of Napa and it's easy to find some of the most personable and accessible wine-tasting and industry-interactive experiences you could ask for.
It surely helps that these people actually produce wine you want to drink. Locals already know a lot of the great wineries—Soquel Vineyards, Windy Oaks, Hallcrest Vineyards and Storrs all showed up at Pinot Paradise on the heels of winning gold medals for their pinots in the 2006 San Francisco Chronicle International Wine Competition. But there were some remarkable finds, as well. McHenry Vineyards only produced 320 cases of their 2001 estate pinot and 386 cases of their 2002. If you can get your hands on any of these, do so immediately. And the Santa Cruz Mountain 2004 Wild Yeast pinot is a limited release that is similarly sublime.
It's kind of funny in some ways that pinot noir has become the grape of the moment in wine circles. As the range of tastes on display last Sunday proved, it doesn't often have a gigantic flavor to it. The offerings hit a range of sweet and dry notes, but subtle complexity was the order of the day. Certainly I've never stumbled upon more superb pinots in one spot; and if you'd like to do so too next year, remember to get your tickets (from the sponsor, Santa Cruz Mountains Winegrowers Association) far in advance.
One note for next time, though: the Sideways connection has got to go. Thankfully, this year it was reduced mostly to a sign at the event entrance with the movie's now-famous quote about the trials and rewards of the pinot grape. Sure, it's a great quote, and it's a good movie, but come on, California, after two years of tie-in, this film has now been pressed for everything it's worth.
Send a letter to the editor about this story.