April 5-11, 2006
home | metro silicon valley index | the arts | stage | review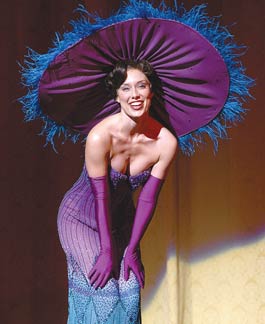 Photograph by David Allen
Bloom With a View: Megan Hart Jimenez teases the guys as Gypsy Rose Lee.
Glorious 'Gypsy'
American Musical Theatre of San Jose unveils new sound system for musical favorite
By Rob Pratt
WHAT A difference 12 decibels makes! American Musical Theatre of San Jose inaugurates the San Jose Center for Performing Arts' new sound system with a production of Broadway classic Gypsy that's loaded with aural and visual delights. Audiences used to the muddy and problem-ridden sound in the center are in for a pleasant surprise: present and clear vocals. Even more, the amplification system makes smart work of bringing the orchestra's sound out of the pit and into the audience. Each instrument in the orchestra carries to the back of the house discernible and balanced, from screaming lead trumpets to subtle cellos.
Such excellent new audio hardware would go to waste if asked to amplify a cast that can't deliver. The players for this great-sounding and good-looking production don't squander a single watt of audio power. As Mama Rose, Marya Grandy has a powerful voice. Though not a belter, she sings with precision and force. Unlike so many contemporary singers working over classic Broadway tunes, Grandy delivers melodies directly, conveying emotion with such old-school techniques as accurate pitch and sophisticated phrasing rather than scooped notes or filigrees of appoggiatura borrowed from jazz and R&B.
The music, penned by Broadway master Jules Styne and dramatized with lyrics from an upstart Stephen Sondheim, requires nothing more than what's on the page. A glorious set of songs from the golden age of American musical theater, the score to Gypsy, lavishly rendered by an orchestra conducted by William Liberatore, is beautifully complemented by Director Tim Bair's vivid and elegant vision for the show. A band of roses edges the proscenium and frames the action. Sets by J.B. Wilson and costumes by Thomas Marquez leap to life almost of their own accord and in spite of the actors inhabiting them. Bair's direction makes smart use of such beautiful trappings, wisely employing a light touch to allow Arthur Laurents' excellent book and Styne and Sondheim's gorgeous songs to stand in the foreground. Bair incorporates flourishes only when they make sense with the plot or when they can capture a comic moment without getting in the way of the story.
As Herbie, Mama Rose's love interest, Rick Hilsabeck proves a perfect match for Grandy. Their romantic numbers are often perfectly modulated—sweet without being sentimental. Just as often, however, their scenes together come off as strangely businesslike, almost afraid to delve into the dysfunction at the core of the story. Megan Hart Jimenez beautifully captures Louise's transformation form awkward teen into glamorous starlet (the famed stripper Gypsy Rose Lee). Matt Bauer delivers a star-making turn as youthful dancer and dreamer Tulsa, and Elizabeth Palmer has great fun with the acerbic stripper Tessie Tura.
With this classy and artful production of a landmark work of American musical theater—and with a theater equipped to do the job—American Musical Theatre of San Jose finally offers San Jose a quality homegrown showcase for the best of Broadway.
Gypsy, an American Musical Theatre of San Jose production, plays Tuesday-Friday at 8pm, Saturday at 2 and 8pm and Sunday at 1 and 6:30pm through April 9 at the San Jose Center for the Performing Arts, 255 Almaden Blvd., San Jose. Tickets are $46-$73. (888.455.7469)
Send a letter to the editor about this story.