April 5-11, 2006
home | metro silicon valley index | columns | car culture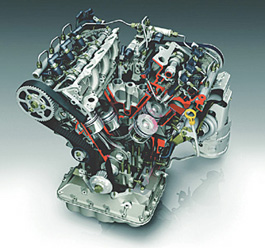 Car Culture
Diesel Futures
By Novella Carpenter
ALTHOUGH I AM loath to plan ahead for most things—public speaking, international travel and grocery shopping—I'm pretty excited about something on the car horizon. You'll have to squint your eyes, however, because the celebrated event doesn't occur until October 2006. What's the spectacle? The appearance of brand-new diesel cars on the California market.
You probably hadn't noticed, but because of strict emission laws, you can't buy a new diesel car in California. That's also true for people in Maine, Massachusetts, New York and Vermont—states that always go along with our air-quality recommendations. Yes, they're copycats. But for a good reason.
In the past, diesels were incredibly polluting, spewing higher levels of sulfur, NOx and particulates (that blue stuff) than conventional unleaded fuel. As part of the Lower Emission Vehicle program, new passenger diesel sales were shunned. At the same time, incremental lowering of sulfur levels has been enacted nationwide. Many Californians, people who desperately needed to own a diesel for whatever reason, could do so by the only slightly illegal loophole of buying a car in a state like Arizona and registering it at their mom/sister/cousin's address. These people (who will go unnamed) then drove around the Golden State with license plates from Oregon or whatever until they reached the magic number 7,500. When the odometer clicked past that reading, they could register in California legally.
What would motivate people to do such an awful, lawbreaking thing? Namely, they want a car with better fuel mileage. Other people want to run the car on biodiesel. The fact of the matter is, diesel cars are actually pretty clean. Now that the United States is requiring all stations to sell ultralow-sulfur diesel, California will allow diesel car sales to begin again.
First, the cars will need to be fitted with after-treatment devices, which may add an extra fee. These treatments will reduce NO² to acceptable levels. In a recent article in the San Diego Union Tribune, John Moulton of Robert Bosch was quoted as saying that clean diesel may help reduce dependency on oil: "If diesel vehicles make up 30 percent of the United States market share by 2020, the United States could save 350,000 barrels of oil a day." If you're wondering what low-sulfur diesel means, it's 500 parts per million, and ultralow has only 15 parts per million, so it's much less smelly and polluting.
Rejoice, people no longer need to be criminals, the cars are more efficient and clean and there will be cars out there that have previously been unavailable. So, soon you could drive away with some great cars with great mileage. One is the Audi A6 3.0 TDI. The Brits have been raving about this engine: "This new 3.0-liter diesel engine is currently the most advanced oil-burning power plant you can buy." Plus, it's a hot car. Though I'm embarrassed to bring it up, there is a PT Cruiser that comes in diesel flavor. And thank goodness, because though you may expect the little Cruiser to be a gas sipper, it certainly is no such thing. My friend Joe rented, as a joke, a purple one and found himself fueling too often. The diesel version, however, is whispered to get around 35 mpg on the highway.
For the Eurotrash, BMW makes a suite of diesels that will be available in October. They include the 120D, the 330D and the X330D. The 330s are station wagons, so this is what the now-grown-up Bauhaus listeners will be driving at your high school reunion. The 120D looks like a Bug, but a cute one. Of course, VW has a fleet of diesels available with its brainy TDI engine, including the Golf, Jetta, Passat and Touareg.
But please, people, you must ask your dealer to carry these beauties. Some people cringe at the high price of diesel, which hovers at $3 per gallon, or biodiesel (made from vegetable oil), which edges past $3.50 per gallon, but you must remember that the cars get 30 percent to 40 percent better fuel mileage than gas vehicles. Start saving your money. I see a diesel in your future.
Contact Novella Carpenter or send a letter to the editor about this story.