April 5-11, 2006
home | metro silicon valley index | movies | current reviews | film review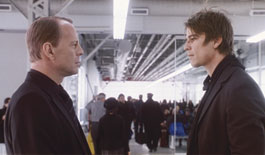 Hair Club for Men: Bruce Willis' hairline recedes while Josh Harnett's advances in Paul McGuigan's 'Lucky Number Slevin.'
Joshing
'Lucky Number Slevin' should be rated P for the gratuitous overuse of plaid
By Richard von Busack
GIVE Lucky Number Slevin credit for cleverness, and it's still overextended. If Paul McGuigan's movie was a gambler's bad debt, a few legs might have to be broken. Josh Hartnett breezes into the movie as a no-hoper named Slevin staying in a pal's NYC apartment; similarly, Lucy Liu breezes into the aforementioned apartment (what is this, Seinfeld?) to borrow a "cup of sugar," which, she explains, requires borrowing a cup as well, or else she just would have asked for sugar. And so on.
Soon, thugs start breezing in, giving Hartnett a punch on the beak for good luck and then hauling him off to meet New York's equal-but-opposite crime lords: the Boss (Morgan Freeman) is folksy but menacing; his rival of many years is the menacing but pious Rabbi (Ben Kingsley). I thought I detected a note of religious allegory to go with the usual neo­Damon Runyanisms. But the Rabbi's insistence on "Shomer Shabbes" rules regarding professional assassination may just be an obvious ref to The Big Lebowski, since the Boss and the Rabbi don't have the odd rapport that God has with Satan in the Old Testament.
Both crimes bosses hire Slevin. Meanwhile, a mysterious assassin called "Goodkat" (Bruce Willis) seems to pull the strings; he introduces this little con game with the story of a gambler's death, which seemingly has nothing to do with the story but, of course, has everything to do with it. Also caught in this kosher pickle is Stanley Tucci, saying things you never wanted to hear a movie cop saying again. In a film that prides itself on its fancy writing, it's amazing how by rote the corners of this picture are, since these are the spots most begging for ornamentation. The old Runyan redundancy shows up repeatedly, though. The Boss: "That was my son. Notice I said, 'Was'? That's because he's dead." Dead like Things to Do in Denver When You're Dead, that kind of dead?
Writer Jason Smilovic crazy-quilts more than a few scripts. The cut-and-paste writing is reflected in the décor, which is frozen in the '70s: Hartnett's plaid-as-a-dad V-neck sweaters clash with the pizza-parlor-like plastic-imitation stained-glass windows of the Boss's pad, which in turn rebound off the silver Mylar wallpaper and the crazy-tile flooring. This movie's art direction needed a huge shot of tranquilizers.
Hartnett, so not-there as to make Ben Affleck look like Sean Penn, plays scenes in a bath towel. I'm no judge of horseflesh, but I suppose that might be enough for his fans. McGuigan (Gangster No. 1) tries to deglamourize Liu by having her gorge on spaghetti and peanut butter; this is all part of the lamentable trend of making actresses who aren't Cameron Diaz be Cameron Diaz. (The couple's pillow talk: a debate over who was the best James Bond. Diaz Diaz Diaz.) There are moments when Liu's natural felinity gets the better of this stuff, but if she wants to be an actress instead of a celebrity, she's got to start looking elsewhere. The movie doesn't expect us to take it seriously until it starts shedding blood, whereas we might believe it if it showed us some heart.

Lucky Number Slevin (R; 110 min.), directed by Paul McGuigan, written by Jason Smilovic, photographed by Peter Sova and starring Josh Hartnett, Bruce Willis and Lucy Liu, opens Friday, April 7.
Send a letter to the editor about this story.