04.08.09
home | metro silicon valley index | columns | silicon alleys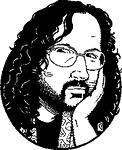 Silicon Alleys
Wild, Wild Walk
By Gary Singh
A FEW WEEKS AGO, the San Jose City Council unanimously established the Cesar Chavez Memorial Walkway. I wholeheartedly applaud the effort, but if one actually peeks at the map of this thing, something just jumps right out and doesn't look right. At least not to me.
Here's what they did: They began the walkway, logically, at Plaza de Cesar Chavez in downtown San Jose and then drew a path a few blocks east and up into SJSU, where the Arch of Dignity, Equality and Justice sits. This is a relatively new monument located between the Music Building and the cafeteria, facing what used to be Seventh Street. Those two markers—the plaza and the arch—constitute the beginning of the path.
Then the planners created five more spots in or near the Mayfair 'hood on the East Side, all of which make perfect sense but just happen to be nowhere near the first two downtown spots. Those markers are: Chavez's former home on Scharff Avenue just south of Alum Rock Avenue; Out Lady of Guadalupe Church; the Mayfair Community Center; Chavez Elementary School; and then the Mexican Heritage Plaza, the former site of a Safeway where the famous grape boycott took place.
Then the city just arbitrarily used a three-mile stretch of Santa Clara Street/Alum Rock Avenue—from downtown eastward all the way almost up to Jackson Avenue—and haphazardly connected these two neighborhoods. Maybe they're planning to eventually add more markers along Santa Clara, I don't know, but the whole thing looks disjointed at first, as if the city just decided to hurry up and make this thing official in time for the Cesar Chavez holiday—as opposed to waiting and doing a more complete job.
(Of course, this is standard operating procedure. For example, when it took five months to redo the light-rail station at Paseo de San Antonio, they finished half of it in time for the Grand Prix, made it look all spic and span and then held a press conference announcing they had finished it, when only one platform out of the two was actually completed.)
So what to do? Well, last week, the urban-blight exploration junkie filled in some of the missing highlights along this particular stretch of Santa Clara Street, so all I can do is add a few more, and as with any of these magnum expeditions, you must harbor a thriving passion for the absurd to fully appreciate the task at hand.
For example, we must consider it a travesty of justice, equality and dignity that the city did not include a rest-stop marker for the hole-in-the-wall greasy spoon diner named A Bite of Wyoming, which, incidentally, sits right at the corner of corner of Alum Rock and Scharff Avenue.
This is a legendary oddball obscure San Jose eatery that you'd never even notice the first time you drive by it. A friendly drawing of a bison graces the front door. The décor features rusted ranching tools from the Old West haphazardly strewn about the walls. Another bison's head sits on the back wall, and the booths are a rip-roaring blue shade of vinyl. There's probably no better place to get a $4.50 plate of spaghetti or a good old-fashioned cholesterol-filled heart-stopper special than A Bite of Wyoming. If on a weekend morning you actually try and traverse the entire Cesar Chavez Walkway from downtown three miles down Santa Clara Street to Scharff Avenue, you will probably be in dire need of some breakfast, believe me.
When you do get to the end of the path, after it circles through Mayfair and then winds up at the Mexican Heritage Plaza, you will have walked a total of five miles, apparently. If you decide to reverse your walk and then go all the way back down Santa Clara Street to downtown, you will probably drop dead of exhaustion in the process. Which is perfect, because another timeless San Jose landmark sits right at 11th and Santa Clara: the Darling and Fischer Mortuary—an appropriate conclusion if ever there was one.
Contact Gary Singh or send a letter to the editor about this story.