04.08.09
home | metro silicon valley index | the arts | visual arts | review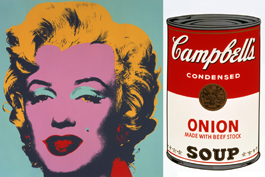 Marilyn, 1967; Campbell's Soup I: Onion, 1968; Courtesy of The Andy Warhol Museum, Pittsburgh; Museum Loan, Private Collection and Founding Collection, (c) The Andy Warhol Foundation for the Visual Arts, Inc.
Dandy Andy
Art snobs didn't understand Andy Warhol in the 1960s, and the pop artist still has the power to confuse high and low
By Gary Singh
OVER AT the back of one gallery in the San Jose Museum of Art, there is a wall where people can tack up their observations about the "Prints of Andy Warhol" show, currently running through May 31. The remarks as a whole, handwritten on binder paper, function as a complementary body of work to the obligatory "viewer comments" book, which occupies a pedestal in front of the wall.
One remark proclaims: "It's freaking amazingly Deep!!! It shows the true American." And then, below: "Joseph & Arlyn was here 03/21/09."
Another says, "Andy shows us there is NO repeation (sic) in art, because repeation (sic) is art by itself." Take that one home with you. It'll make a perfect koan to recite to the tune "Heroin" from that destroyed copy of the Velvet Underground & Nico album you've played 60,000 times.
Warhol, of course, was the dude who designed the legendary banana cover for that legendary album. Like any true renaissance man, he could not function in just one artistic discipline. Besides prints of cows and soup cans, Warhol also designed album covers and injected himself into the worlds of film, theater, music, experimental performance, dance, drugs, meditation and poetry.
His interdisciplinary fraternity of the absurd, the Exploding Plastic Inevitable, predisposed generations of inventive types looking for artistic crossover between branches of learning, realms of deliberation or previously separated planes of creative existence.
But I digress.
The San Jose show, snatched from the collection of the Andy Warhol Museum in Pittsburgh, offers a timeline of Warhol's career through dozens of screen prints and lithographs, ranging from the '60s to the '80s. As soon as you walk in, you see Jackie Kennedy and food stamps. You pass pink Liz Taylors and green Ingrid Bergmans before you even make it to the Ambulance Gallery and the Electric Chair. As with pretty much any Warhol show anywhere, one can claim that he would have wanted it that way.
You see, in the '60s, Warhol shocked the rich art snobs out of their turtlenecks and sport coats by hanging prints of commonplace items or pop-culture icons on the walls of museums. Nobody from the wine-and-cheese club could initially understand why Campbell's soup cans were now gracing the same walls as paintings by Jackson Pollock, who by then had hit the big time since initially offending the snobs by peeing in the fireplace 20 years earlier.
In the process, Warhol unarguably perfected the artist as celebrity. To this day, pompous art critics continue to froth about how reproductions are getting too much attention. Again, it's safe to dodge the issue and merely assert that Warhol would have wanted it that way. Why not? He never explained himself, so why should anybody else?
The museum even amplifies the Warhol heresy a little more, offering an interactive timeline of his life, including everything remotely connected to his career. A computer mouse sits there all alone atop a pedestal, enabling visitors to watch the timeline scroll by and then click on the pertinent events, like when Warhol was invited to a White House dinner for the Shah of Iran or when he bought his first Rolls Royce.
And then there's the Warhol Text Messaging Game. You "receive clues and deploy your detective skills to find the correct artworks and learn facts not available anywhere else." Perfect for those seeking their 15 seconds of fame. In fact, you can almost hear the art snobs complaining from their respective stables at the glue factory that this is NOT what museums are for! How dare they! Harrumph!
To celebrate the show, independent curator and author Sidra Stich (American Pop; Made in USA: An Americanization in Modern Art, the '50s–'60s ) will give a lecture on 7pm on April 16 titled "Quintessentially American—Andy Warhol."
THE PRINTS OF ANDY WARHOL runs through May 31 at the San Jose Museum of Art, 110 S. First St., San Jose. Closed Mondays. (408.271.6840)
Send a letter to the editor about this story.