04.08.09
home | metro silicon valley index | silicon valley restaurants | review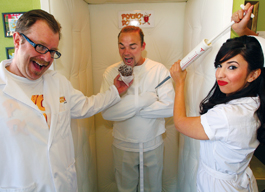 Photograph by Felipe Buitrago
MALPRACTICE: Co-owner Psycho Kipp Berdianski, patient/patron Thomas Bains and Nurse Isabel Tiscareņo stage a scary intervention at Psycho Donuts in Campbell.
Crazy About Donuts
Psycho Donuts, the new horror-themed shop in Campbell, isn't just about the gimmick—it's reinventing the donut
By Steve Palopoli
THANKS for coming in!" bellows hyperfriendly Kipp Berdianski to a startled customer on her way out the door of Psycho Donuts, the new horror-themed donut shop on Campbell Avenue. "Did you get some bubble wrap?" The woman stops in her tracks, and confusion clouds her face as she stares at the beaming, wildly waving mustachioed man in a lab coat. Her look says it all: Why is this freak offering me bubble wrap? She shakes her head and laughs and is out the door. Many people ask themselves the same question when offered the store's trademark free square of popping plastic, admits co-owner Jordan Zweigoron, who opened the shop last month with Berdianski.
"And the answer is," says Zweigoron, "because it's fun.
Or maybe it's because Zweigoron and Berdianski truly put the psycho in Psycho Donuts. These two men have not just taken the donut concept to the edge, they've jumped. "We even played around with something called the sushi donut," says Zweigoron. "But we decided it wasn't going to work."
"I literally got sick," admits Berdianski.
What's more surprising is that these two tech refugees have also put the donuts in Psycho Donuts. Beyond the gimmick, they have put an enormous amount of time into reinventing a truly stale American snack staple. Inspired by how the Counter has revolutionized the hamburger concept and a new generation of innovators has reincarnated frozen yogurt yet again, the Psycho duo is dragging donut technology kicking and screaming into a post–Homer Simpson era.
Sparked by fond childhood memories and a post-racquetball discussion about how all donut shops are depressingly alike, Zweigoron gradually convinced Berdianski they could do better. But they didn't start with the name, the padded cell, the straitjacket or any of the shop's novelty elements. They started with the shape of the donuts. They wanted a unique product, and since no square donut cutters existed, they had some made. There was plenty of discussion about what unexpected flavors would make the best toppings, and sometimes they went to extraordinary lengths to pick a winner. For instance, when considering a replacement for the tired apple fritter, they had three ideas: mango, peach and apricot. They took to the streets of Campbell in their lab coats and taste-tested their experiments with whoever they could get to try them.
"Mango fell flat on its butt," says Berdianksi. "Peach was a close second."
But in the end, apricot prevailed. And then, it was psycho time. "I was driving the guys crazy, going 'More apricot! More apricot!'" he remembers.
The result, named Apricotology, is hands-down Psycho's best donut. It is, in fact, one of the best I've ever had. Exactly the right balance between crunchy and chewy, it's a burst of fresh fruit gilded by a sugar glaze.
Some of the other high-concept varieties are simply too sweet for me, like the Cookie Monster, with its Oreo topping, or the Do-Nilla, with its vanilla wafers. But the interesting thing is that some of the most bizarre and frankly dubious concepts actually turn out to be delicious and rather addictive in their unique flavor—even if it took a few bites for them to grow on me. One example is the Psycho Donut, a maelstrom of marshmallow, pretzel and chili powder. It hits the taste buds like a car crash, but after taking a moment to let my tongue repressurize, the remarkable clash between savory and sweet began to work its magic, and resistance was futile. Another is the Feng Shui, with a topping of dark chocolate and a green tea glaze. The tea seems out of place at first, but the way it cuts the sweet of the chocolate is remarkable.
Also in development are baked donuts, a vegan donut and an old-fashioned with a key lime topping, among others.
Then, of course, there's the atmosphere, from the sanitarium theme to the bubble wrap to the sexy Nurse Isabel on duty. Though many tried to convince the owners to open in San Francisco instead, the geek-friendly and search-engine-optimized theme makes it a good match for Silicon Valley. It caught on like wildfire online almost immediately.
"We wanted to do a 'soft opening,' but all these people came in and said, 'I heard about it on Facebook," says manager Greg Lim. Not all of the online attention has been positive; one response has been an online petition claiming the idea of "psycho donuts" is somehow an affront to the mentally ill and that the store should be shut down because of it.
The shop holds a video contest with weekly winners, whose donut-themed entries are shown at the shop. They also plan to host live acoustic performances and a Rock Band tournament. Meanwhile, Berdianski can sometimes be found running through the Campbell Farmer's Market in a Hannibal Lecter mask and a donut outfit yelling, "Psycho Donuts! Psycho Donuts!"
"There's grandma," he recalls of his last excursion, "squeezing an orange, going, 'What the ... ?'"
---
Psycho Donuts
Address: 2006 S. Winchester Blvd., Suite C, Campbell.
Phone: 408.378.4540.
Hours: Hours: 7am–11am Mon–Thu, 7am–8pm Fri, 8am–8pm Sat, 8am–5pm Sun.
Web: Web: www.psycho-donuts.com.
Send a letter to the editor about this story.