04.08.09
home | metro silicon valley index | movies | current reviews | dvd review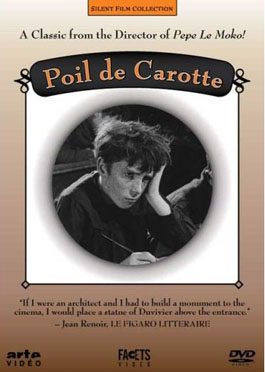 Poil de Carotte
One disc; Facets; $39.99
By Richard von Busack
Julien Duvivier's 1925 silent version of Jules Renard's novel about a boy slapped around like the proverbial redheaded stepchild. The captivating nonprofessional actor André Huezé plays François, a freckle-faced, "carrot-top" child of a well-off family in the foothills of the French Alps. François is openly despised by his mother (who looks like Mr. Addams just as the cartoonist Charles Addams drew him, complete with mustache); his aging father is blind to the abuse his son endures.
Various subplots unfold as the summer wears on. François' elder brother, his mother's pet, falls desperately in love with a sleek, greedy cabaret singer (Renée Jean, a ringer for Anjelica Huston). When young François is accused of the thefts his brother carries out to support the singer, François considers suicide. Duvivier (Pépé le Moko, Flesh and Fantasy) walks a fine line between the squalid and the picturesque; homely comedy shifts into scathing satire of small-town boors and gossips; touches of expressionism and fantasy keep this from being a mere naturalistic slice of life in the French countryside.
The disc includes an introduction by Serge Bromberg, who points out that the French public had considered director Jacques Feyder the best man to adapt Poil de Carotte into film, on the strength of his popular success Crainquenbille; however, the clip here from a different Feyder film, Visages d'enfants, shows a more restrained, conservative talent than the one Duvivier displays. Here is a uniquely sour/sweet view of the kind of childhood that can end up producing a brilliant outsider—or a psychotic. The story was compelling enough that Duvivier made it again, in sound, in 1932.
Click Here to Talk About Movies at Metro's New Blog
Send a letter to the editor about this story.