04.08.09
home | metro silicon valley index | movies | current reviews | film review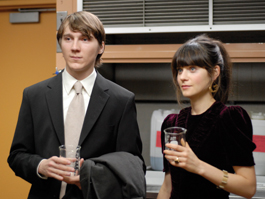 SLEEP TRAIN: Paul Dano and Zooey Deschanel discuss high-end mattresses in 'Gigantic.'
Wombat Ramble
'Gigantic' traffics in the quirky anxieties of a young man bent on adopting
By Richard von Busack
JUST AS every cop is a criminal and all you sinners saints, just as heads is tails, call Gigantic "miniscule." This asphyxiating indie mope-romance stars Royal Dano. The wan actor plays a luxury-mattress salesman in New York, working in a bleak brick warehouse. He has no ambition, save one: he wants to adopt a Chinese baby; he has wanted to do this ever since he was a child himself. On the fast track to carry out his plan to be a single parent, Dano's Brian Weathersby encounters two oddballs in one day at work. The first is a grumbling fat cat (John Goodman) with the discretionary income to buy a Swedish mattress for $14,000. The second is Goodman's shy, cowed daughter (Zooey Deschanel), who comes in to do the paperwork. She is nicknamed "Happy," because she's so anhedonic.Happy crawls on the mattress and promptly sacks out. There's a skeleton lying next to her on the mattress, to show how the vertebrae align when they're on top of a luxury bed. This Death and the Maiden tableau—shot, like so much of Gigantic, with a long lens, as if we were seeing everything from Jersey—sums up Dano's attraction and fears. It also sums up the queasiness of the film, from courtship (a tryst of shadows in the back of a station wagon) to quirky celebration party, with a piņata in the shape of Qaddafi. I can't believe they would so wantonly alienate the lucrative Libyan market for Manhattan indie films. What Happy and Brian have in common is larger-than-life parents. Dano is the weak little brother in a family led by burly Ed Asner, who drinks a bit too much and also acts as shaman on an annual family magic-mushroom rite in the woods. Nice to see the old griz back. Meanwhile, Goodman's own grouchy eccentricity yields as he tries to get his little girl started in life, which includes reminding Brian that she's "fertile soil." I sense a WASPy undertone about the trying problem of dealing with social inferiors. Part of this is due to the careless purchase of the "Chinese baby," and the homeless man with a crowbar who keeps attacking Brian: reportedly, according to director Matt Asleton, the furious bum represents Brian's fear of life. This peril is mirrored in the film's disconcerting opening image, a lab where a grad student is drowning white rats: a test to see which ones have the gumption to swim. Fertility is always referred to with metaphors about guns and ammo. The knife edge of life and death is made clear—apparently, there's some urgency about getting this pair of bloodless moon birds to mate. But the film's world is a world in which there are lots of French restaurants and one doesn't raise an eyebrow about dining with a person called "Ducky Saltsonstall." It's weird to see screwball comedy done without the gags, without the physical comedy and mostly without the romance. Dano's numb trudge through this one makes you believe he's going to be a Bud Cort, an eccentric supporting actor despite such strong performances in Little Miss Sunshine and There Will Be Blood. Wandering through Gigantic's nonevents like a chirping, lost baby bird isn't doing Deschanel's career a favor. She tries to light up the movie, but in these remote widescreen long shots, she's like a dying flashlight in an aircraft hangar.

GIGANTIC (R; 98 min.), directed by Matt Aselton, written by Aselton and Adam Nagata, photographed by Peter Donahue and starring Paul Dano and Zooey Deschanel, opens April 10.
Click Here to Talk About Movies at Metro's New Blog
Send a letter to the editor about this story.