04.08.09
home | metro silicon valley index | music & nightlife | band review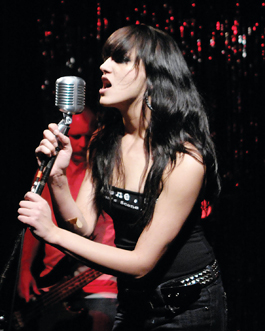 ROMANTIC: Suicidal Barfly vocalist Jen Chambers helps shape the group's spooky cabaret sound.
Live Like A Suicide
San Jose's oddest rock band takes up residency at the Blank
By Steve Palopoli
JOINED the rock & roll circus today," sings Jen Chambers on Suicidal Barfly's "Rock and Roll Circus." "Even told my grandma I was running, running away."
It's sort of an ironic namecheck, since it was Chambers' grandma who told her she would be better off not singing at all. The vocalist for what may be San Jose's most offbeat rock band had been playing piano since age 4, and guitar since 12, but Grandma didn't think much of her not-particularly-girly alto register.
"She told me, 'You have a really strange voice. You might want to stick to playing an instrument," recalls Chambers.
For years, she took the advice, playing in bands but not thinking of stepping up to the mic. All the time, however, she was stockpiling her own songs, with no outlet for them.
"I didn't really care at the time," she says. "You just do what you do."
Even when she finally got over Grandma's advice and formed Suicidal Barfly with Jessi Jane, she wasn't sure how it would go over.
"I knew I could sing. But I wasn't sure if anybody would like it," she says.
One person who did was multi-instrumentalist Shawn Packer, of the Shitkickers and several other San Jose bands over the years. They met at the Caravan in 2007, and Chambers told him about her songs.
"She came over and sat down at the microphone," says Packer. "I heard her songs and said, 'Damn, this is not what I expected.'"
Nor did he expect to be backing her mysterious, almost torch-song-like vocals on guitar, with the accompaniment of a full band.
"From my point of view, it was just an acoustic thing. I thought the drums would take away from the feel of the lyrics. But I heard it, and it was like 'That's it! Let's do it.'"
The result is a band whose sound bears an uncanny resemblance to its name. Chambers' voice recalls Cat Power or Helium's Mary Timony, whiskey-soaked and sometimes creeping through a song as if she might trail off completely at any minute, only to rise back into an emotional pitch in the very next line. The music is moody one minute, then briefly rushes into a blur of guitar and drum before ebbing with the vocals.
"It's like a spooky cabaret," says Packer.
Certainly there's nothing else quite like it on the South Bay scene, which is why it's understandable that the Blank Club grabbed the still fairly unknown band for a residency—they are playing every Wednesday this month with a shifting lineup of supporting bands.
"We have a different style that San Jose totally needs," says Packer. "For years here it was that basic punk rock sound. Now I think the tide is turning. I have so much faith in Jen's music. I come up with a riff, and within 10 minutes she's got lyrics, and she's got a melody over it."
The music is perhaps the most ambitious that Packer has attempted, even though none of his projects could be categorized as typical. It draws from several decades; he says they specifically think about a '50s horror-movie vibe when working on the songs, but there's also the feel of '40s noir and some striking harmonies that recall '60s girl groups. And yet Suicidal Barfly's music doesn't seem particularly postmodern. Like the work of Tom Waits, it has its own unique character and, rather than being a pastiche of periods, seems slightly outside of time.
The lyrics, meanwhile, have real emotion behind them, but a certain amount of mystery as well.
"I like to tell stories, but I'm not always telling the whole story," admits Chambers.
"Heartless Romantic," for instance, is about a love affair that leads to murder, but it actually sounds romantic.
"He does love her, in this really demented, twisted way," says Chambers. "I like dark and cynical humor. Dark and cynical are my two favorite things, other than hot dogs and bacon."
Who would believe this is a band whose first song together was the Carpenters' "Superstar"? Chambers appreciates the irony, but argues "the Carpenters are dark and disgusting too. They just sound poppy."
SUICIDAL BARFLY plays the Blank Club on Wednesday (April 8) at 9pm, and every Wednesday through April. This week's openers are Mood Runner and Ugly Winner; no cover.
Send a letter to the editor about this story.