04.08.09
home | metro silicon valley index | music & nightlife | band review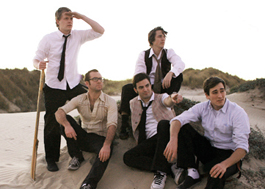 SHADOW CASTERS: PK plays the Venue on Saturday.
We're for PK
By Claire Young
IN categorizing books by Library of Congress code, PK describes works related to Indo-Iranian languages and literatures. PK is also an abbreviation for psychokinesis, Pakistan and penalty kick. In the music world, PK is a San Luis Obispo–based (by way of Santa Cruz) quintet fusing anomalous and varied time signatures, vocals akin to a softer version of Dashboard Confessional's Chris Carrabba, and a savvy use of breakdowns and bounding beats.
PK might also stand for "polite kids," as these youthful lads are generous behind the scenes with fans and fellow bands, which is part of why their T-shirt and hoodie slogans of "I'm For PK" feel less like "I Like Ike" and more like "I Like Good Music." Aside from a brief hiatus last year, PK is going on five years together, and the band released its debut five-track EP, Casting Shadows, in late 2007. Joybot, the Record Winter, the Sound of Orange, Dominck Adam, Brian G and Forgive and Regret also perform at this all-ages show.
PK plays Saturday (April 11) at 6pm at the Venue, 4 New York Ave., Los Gatos. Tickets are $10. (www.myspace.com/pinupproductionssj)
Send a letter to the editor about this story.