04.08.09
home | metro silicon valley index | the arts | stage | review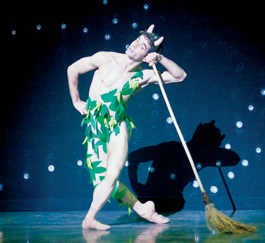 Photograph by Robert Shomler
PUCKISH: Ramon Moreno gave his character a dose of whimsy in 'A Midsummer Night's Dream.'
Comic Charm
Ballet San Jose brings out the magic in 'A Midsummer Night's Dream'
By Jessica Fromm
CAPTURING the whimsy and charm of Shakespeare's most popular romantic comedy, Ballet San Jose's production of A Midsummer Night's Dream offered a fantastical feast for the eyes with a graceful, romping kinetic spectacle. For some ballets, audiences want and expect to see a massive, blown-out production, and artistic director Dennis Nahat's 20th-anniversary revival of the work pulled out all the stops. The 400-year-old tale of magic and humorously mismatched Athenian lovers used dense, verdant, glitter-covered sets, a cast of 60 intricately costumed dancers and a live symphony orchestra conducted by Dwight Oltman. Designed by David Guthrie, the scenery and costumes of this production were Alice in Wonderland–esque, from the enormous 3-D flowers and vegetation sticking out of boulder backdrops to the dewy, spider-web screens and vine-covered columns constantly moving and changing with the interwoven story line. 
Every traditional ballet needs a princess, and Alexsandra Meijer as Titania, queen of the fairies, was mesmerizing. Surrounded by frolicking pixie minions, Meijer flitted around the stage in glistening gossamer butterfly wings, her feathery body stretching and extending with every airy fouetté en tournant and grand jeté. Meijer was also an astute mime and actress, in one scene beaming as she tenderly doted on the little boy she has taken under her wing, the next pushing him away in favor of an ass while under Puck's spell. The grand pas de deux between Titania and Oberon (a stoic Jeremy Kovitch) was exquisite, the music and dancing coming together in a perfect mix of tension, passion and expert execution.
Nahat also pulled out some remarkably intuitive choreography: for example, having all the female dancers carried offstage upside down at the end of one sequence. Though the narrative is storybook in nature, male dominance is a persistent premise throughout the original play. By pinning the female dancers in this submissive role while exiting the stage, Nahat showed a subtle nod to Shakespeare's own thematic elements.
Skipping child fairies were played by Ballet San Jose School students, and the cute little girls in white tights did wonderfully alongside the professional dancers. Of course, the darling of all productions of A Midsummer Night's Dream is always the mischievous Puck. Ramon Moreno portrayed the fairy king's rascally servant sprite with animation and energy, miming amusement and looking down on the magical absurdity from lofty ivy covered perches and swings. Moreno gamboled, cartwheeled, leapt and spun around the stage, portraying the flighty impishness of his character, his comedic timing and slapstick physical humor never offbeat.
The only part of the production that was at all wanting was the matrimonial conclusion that seemed to go on forever. For some reason, Bottom (Le Mai Linh) and his merry, inept band of amateur thespians' final performance in front of Duke Theseus (Daniel Gwatkin) and his Amazon bride, Hippolyta (Kaleena Opdyke), was cut from the story line, in favor of a longwinded Athenian marriage dance, to tedious results.
Send a letter to the editor about this story.