04.08.09
home | metro silicon valley index | columns | Wine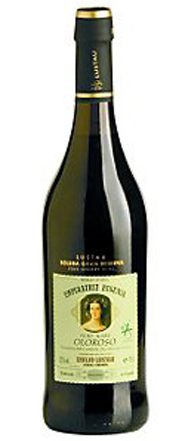 The Wine Column
Sherry on Top
By Stett Holbrook
I HAD a fantastic meal at Marché in Menlo Park the other night. The food was memorable and matched by a few great glasses of wine. The restaurant's helpful and friendly wine director, John Sanders, has created a deep and varied selection that invites exploration. At the end of the night, as I was contemplating dessert, I leafed through the prodigious wine list, and sherry caught my eye.
I seldom order after-dinner drinks, but the sherry called out to me. I went with the honey-colored, dry and rich Lustau "Emperatriz Eugenia" Very Rare oloroso sherry. It's $9 a glass, a real bargain for a wine of this caliber.
Sherry isn't very popular in the United States and that's a shame. Sherry makes for an incredibly versatile food wine. Not only are sherries delicious after-dinner sippers, the drier versions are great aperitifs that pair well with a variety of savory foods, too. Dry but complex sherries like manzanillas are particularly good with seafood. The trick is deciphering sherry's sometimes confusing nomenclature.
Simply put, sherries are Spanish wines made from white grapes that have been fortified with brandy. But it gets more complicated from there. Broadly speaking, sherry is divided into two categories: fino and oloroso.
Fino is typically quite dry and pale in color. Manzanilla is a subset of fino that often has a slight yet pleasing salty note. Oloroso sherries with their signature nutty overtones are darker in color due to longer oak-barrel ageing and contact with the air. Amontillado is a subset of oloroso and typically drier and lighter than oloroso, but not always. The Emperatriz Eugenia oloroso I tried at Marché was quite dry with a lively acidity that makes it a great match for food.
While fino and oloroso sherries are generally dry, sherry labeled with the Pedro Ximenez grape is essentially a very sweet oloroso.
Now to get a bit technical. One of the keys to the production of sherry is the development—or lack of development—of flor, a mat of yeast that can develop on top of the wine. The layer of yeast protects the wine from oxidizing and is central to the production of fino. The clarity of a fino is due to this layer of flor and absence of oxygen.
Olorosos, on the other hand, are sherries made without flor. As a result, their contact with the air contributes to the development color and deeper, richer flavors. 
If all this is still confusing, just ask your friendly sommelier to explain it to you. After a few sips of good sherry, you'll understand what makes it so good. Better yet, got to Marché and let John take care of you.
Marché r 898 Santa Cruz Ave, Menlo Park. 650.324.9092.  
Send a letter to the editor about this story.