04.09.08
home | metro silicon valley index | columns | silicon alleys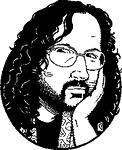 Silicon Alleys
Paging Silicon Valley
By Gary Singh
I'VE BEEN saying for years that what will finally put San Jose on the map is not the fact that we're the 10th largest city, the fifth cleanest big city, the eighth most walkable city or whatever twaddle the politicians are regaling us with this week. It will take authors who place San Jose locales in their novels. That's what will do it.
Take local writer Lynn Rogers for example. Aside from co-authoring the Arcadia Publishing photo book on Alviso, she also writes novels that take place in the industrial wastelands of the South Bay and feature beautifully marginalized antiheroes of the suburbs, from alcoholic veterans at the Salvation Army on Stockton Avenue to runaway goth kids who sneak into empty warehouses. Her newest romp, A Valley of Ashes: Homeless in a Nuclear Warehouse, is her fifth book and heavily features the abandoned 55-acre General Electric plant on the corner of Monterey Highway and Curtner, the one now flattened and replaced by a gargantuan retail mall.
"I definitely felt that the characters overtook me in this case," she explains. "They had a life of their own. I've known many fine writers, ironically, who had come out of the old GE plant. ... I found that it was a place of vanishing history, and that whole area out at Monterey Road became compelling to me."
That GE plant was San Jose's definitive dilapidated Cold War-era splotch of blighted industrial wilderness, and now it is forever immortalized in Rogers' book, which is available from Inkling Press (www.inklingpress.com). The site should now attract literary travelers from across the globe, much like that house in Pigott, Ark., where Hemingway wrote parts of A Farewell to Arms, the street corners of Cairo that Nobel Laureate Naguib Mahfouz wrote about, or that one church in San Damiano, Umbria, where St. Francis di Assisi first received his calling from God.
"The so-called blight and the marginalized people are the heart of the valley," Rogers told me. "That's the true voice of our valley right now. It cannot be found in Willow Glen yuppies' voices, and it can't be found amongst SUVs. It's out there. And if you're so blessed to hear the voice, it captures you. It just took me over."
When yakking with Rogers, it becomes apparent that her experience with blighted areas and marginal people in society borders on the spiritual. 
"In general, I'm interested in people who the theologian Matthew Fox called the voiceless ones," she tells me. "And that's been true since I left Menlo Park and its affluence and took to the road as a teenager following some of those figures. Those who are on the fringe have no voice."
So she puts them in her books. Many of her books use real people and places in this valley, whether it's a dive bar on Monterey Highway or your everyday runaway goth hottie. Another one of her books, The Rainbow's Daughter, features a protagonist's true-life infiltration of a bizarre Menlo Park mystical Tupperware party powwow resembling EST, the legendary '70s New Age behavior improvement cult.
Rogers will read from her books and lecture at two upcoming events taking place in a suburban wasteland littered with uniform tract houses otherwise known as Cambrian Park. (I can say such things, I grew up there.) On April 16 at 1pm she will entertain the Kiwanis Club at the Cambrian Park Methodist Church at 1919 Gunston Way. A day later, she will headline a weekly gathering of scribes at 15272 Charmeran Ave. Both places exist in the 95124 zip code, and unlike Willow Glen, Cambrian Park feels no need to flaunt its zip code on its own T-shirts. For more information on each event, suburban blightophiles are encouraged to call 408.559.5995.
Contact Gary Singh or send a letter to the editor about this story.