04.09.08
home | metro silicon valley index | music & nightlife | band review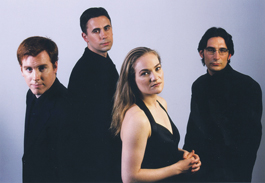 STAR POWER: The Antares quartet, which performs Saturday at Montalvo Arts Center, takes its name from the Scorpius constellation.
Classical Moves
By Michael S. Gant
Antares  Olivier Messiaen's Quartet for the End of Time dates to the French composer's time in a German prison camp early in World War II. While incarcerated, Messiaen wrote a piece for some inmate musicians, first as a small trio work, then as a full quartet with eight movements for clarinet, violin, cello and Messiaen himself on piano. The title refers to the biblical notion that the Apocalypse marks the end of time and the start of "no-time," or eternity. This major and idiosyncratic work of musical mysticism will be performed by the Antares quartet: Vesselin Gellev on violin, Rebecca Patterson on cello, Garrick Zoeter on clarinet and Eric Huebner on piano. The program also encompasses Stravinsky's L'Histoire du Soldat and Shostakovich's Piano Trio. Saturday (April 12) at 8pm; Carriage House Theatre, Montalvo Arts Center, 15400 Montalvo Road, Saratoga; $30/$40; 408.961.5858.
American Beethoven Society Local hero Jon Nakamatsu performs a solo recital for the Beethoven Society. Nakamatsu travels a lot these days, so catching up with him is sometimes a waiting game in these parts. He will perform Haydn's Sonata no. 33, two sonatas by Beethoven (no. 15 and no. 16), Schumann's Papillons and several Chopin études. The society, true to its name, concentrates on all things Ludwig, including publishing the Beethoven Journal and helping sustain and enlarge the collection of the Ira F. Brilliant Center for Beethoven Studies in San Jose. Sunday (April 13) at 7pm; Le Petit Trianon, 72 N. Fifth St., San Jose; $25–$45; 408.808.2058.
The Julliard String Quartet  The brand has been as good as Mercedes or Chivas Regal for 60 years. The group is renowned for its technical expertise, sensitive playing and willingness to experiment—the quartet, for instance, a half-dozen Dvorák works and numerous debut performances of pieces by American composers. This version of the quartet features violinists Joel Smirnoff and Ronald Copes, violist Samuel Rhodes and cellist Joel Krosnick. The program for this Stanford Lively Arts concert includes Haydn's Quartet in E-flat Major, Verdi's Quartet in E Minor and Elliott Carter's String Quartet no. 2. Wednesday (April 9) at 8pm; Dinkelspiel Auditorium, 471 Lagunita Dr., Stanford University; $22–$48; 650.725.ARTS.
San Jose Wind Symphony The hits of Broadway—from West Side Story, Gigi, The King and I and more—are highlighted in "Broadway Showcase" by the San Jose Wind Symphony, as part of its 50th anniversary season. Doing the vocals honors will be soprano Susan Powers and baritone Michael Taylor. Sunday (April 13) at 3pm; Addison-Penzak JCC, 14885 Oka Road, Los Gatos: $15/$17; 408.927.5797.
Sunset Concerts The St. Luke's series welcomes the Weilerstein Piano Trio, a group that believes wholeheartedly in the motto, "The family that plays together, stays together." Cellist daughter Alisa and her parents—pianist Vivian and violist Donald—will perform Mozart's Piano Trio in B-flat, Janácek's String Quartet no. 1 and Schumann's Trio no. 3. Saturday (April 12) at 8pm; St. Luke's Episcopal Church, 20 University Ave., Los Gatos; $10–$20; 408.354.4560.
Send a letter to the editor about this story.