04.09.08
home | metro silicon valley index | movies | current reviews | film review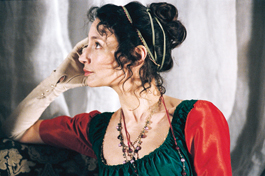 Moune Jamet
FIRST BASE: The Duchess of Langeais (Jeanne Balibar) decides to flirt but not go all the way in Jacques Rivette's period drama.
Possession
Jacques Rivette's 'The Duchess of Langeais' ups the ante on an aristocratic flirtation
By Richard von Busack
JACQUES RIVETTE'S tantalizing The Duchess of Langeais is the old master's attempt to re-create a scuttled film: it was the proposed 1949 comeback for Greta Garbo, with James Mason as the Byronic protagonist Armand de Montriveau. (There was also a 1922 silent version, apparently lost, written by Francis Marion and starring Norma Talmadge.) In 2008, Jeanne Balibar's approach to the title role has little Garbo in it; she is elongated and looks more like Famke Janssen, really. There's a hint of Garbo in the fullness of the wide mouth and, of course, in the male-maddening indifference. The duchess, Antoinette de Langeais, is not young but still ravishing; she is of an age that could be called the point of disappointment. There is a duke somewhere, but he doesn't trouble the story; he has affairs of his own. In 1818, the duchess sees a famous military officer at a party and begs him to tell her of his adventures: "Can I hear the story from your own mouth?" He agrees. Montriveau is famous throughout France for having escaped several years of captivity in central Africa. It goes unsaid, but it seems likely that his disappointment and estrangement are due to the politics of the day. An old and grossly fat Bourbon king sits on the throne, and there is no room the kind of idealism that made Montriveau follow Napoleon, like a dutiful son follows a father.Montriveau becomes obsessed by the duchess and is sure that she will be his mistress. She decides, capriciously—we can almost see the instant on her face when she decides—that she won't go quite that far. The reason for this refusal is for her to know and for Montriveau to guess. She claims to be religious and spends some time in the company of a priest. And yet she lives for pleasure and is as little troubled by God as she is by her husband. She protests that Montriveau is engraved upon her soul, and yet she denies him her flesh. Maddened, Montriveau does what a romantic hero ought to do: he brings out masked servants, stages a kidnapping, makes a threat of dungeon-style violence ... and this is where the balance of power seems to change.Rivette's elastic, leisurely storytelling gets us into the mind-set of two centuries ago. We see the rituals of preparing for the visit of a lover; the adjustment of the clothes and the light, the arrangement of one's self in the pose in which to be conquered upon a divan. We see how a scandal can be created just by the placement of a carriage in front of a certain house. The only questionable moment in Rivette's calm, intelligent, low-budget unfolding comes in his use of title cards, with passages straight from Balzac. One card mentions the Boulevard d'Enfer—"a street of hell," crimson from red lamp-light—but Rivette cuts to an alley of centuries-old bricks under gentle streetlights, like one of our colonial towns in Virginia. The acting keeps the intrigue and intensity, however. Both Balibar and Guillame Depardieu, very much his father's son, excel in this pursuit of a ruinous passion. The almost brutish, almost misogynist ending is far more even-handed than it looks. It's a matter of debate on the way home about who triumphs over whom: the warrior or the aristocrat.

THE DUCHESS OF LANGEAIS (Unrated; 137 min.), directed by Jacques Rivette, written by Rivette, Pascal Bonitzer and Christine Laurent, photographed by William Lubtchansky and starring Jeanne Balibar and Guillaume Depardieu, opens April 11 at Camera 12 in San Jose.
Send a letter to the editor about this story.