04.09.08
home | metro silicon valley index | movies | current reviews | film review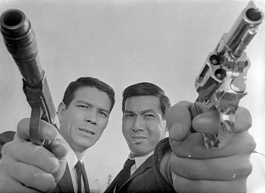 ROLL OUT THE BARRELS: The gunplay is relentlessly cool in Takashi Nomura's 'A Colt Is My Passport.
Yakuzatory
The Japanese gangster films of the 1960s straddled East and West in style and action
By Richard von Busack
WHAT LOOKS like a standard hit—a quick kill, the gun to be dumped in a metal crusher at the junkyard and an Air France ticket out of "this narrow little country"—turns bad. Ace gunman Kaminamura (the chipmunk-cheeked Jo Shishido) is sportively double-crossed by the boss who hired him to eliminate the competition. With that, Kaminamura is an odd man out, holed up in a truck-stop motel—the quarry, if not the prey, of local gangs. The 1967 CinemaScope black-and-white film A Colt Is My Passport by Takashi Nomura, showing April 10 at 7:30pm, opens a series of six Japanese gangster films (all in 35 mm prints) at San Francisco's Yerba Buena Center for the Arts. The series, titled "No Borders, No Limits," features products of Japan's Nikkatsu Studios. Let's stretch a little and say that Nikkatsu is like MGM. While a seemingly eternal name in the Japanese movies (it was founded in 1912), like MGM it went through some dangerous financial straits over the years. In these films, we see the studio working what would be the AIP trade in America, shortly before going into soft-core porn in the early 1970s. Nikkatsu's "akushon" (action) pictures of the 1960s epitomized both Japan's imitation and reinvention of the Western industry. It is easy to see where A Colt Is My Passport is coming from; you can hear it, for that matter, in composer Harumi Ibe's channeling of Ennio Morricone's muted trumpets and harmonica. Like Sergio Leone, director Nomura hits us with the contrast between the cramped close-up of a gunfighter's squint and Yokohama's answer to the Wild West: a wide shot of dust stirred in the wind, a "reclaimed area" where Kaminamura stands his ground in a duel. Western though it seems, this movie has an Eastern streak. The show stops for a musical number—a folk song. And Kaminamura is almost thrown off his mission when distracted by nature: the song of a bird or the buzz of a housefly. I've never seen Shishido in his best-known role, a hit man with a fetish for the smell of cooking rice in Seijun Suzuki's improvised cult film Branded to Kill (1967). But the strangely lopsided face and the enticing somberness make you wish that Western directors had been smart enough to hire him.
Also showing: 1969's Roughneck (April 11 at 7:30pm) has a yakuza pitted against a gang member who wants to leave the life. In 1968's Gangster VIP (April 11 at 9:30pm), a thug, just out of jail for stabbing a rival gangster, finds the most unlikely ally imaginable: the victim of his crime. Red Handkerchief (1969; April 12 at 7:30pm) is the tale of a cop who relocates to the countryside after using his gun in the line of duty. Returning to seamy Yokohama, he discovers that his former partner wasn't on the right side of the law. Glass Johnny: Looks Like a Beast (1962; April 12 at 9:30pm) owes more to La Strada than to Don Siegel. Shishido plays a gambler who rescues an hooker (Izumi Ashikawa) who isn't quite as helpless as she seems. The Velvet Hustler (1967; April 13 at 7:30pm) involves a gangster who gets out of his depth in the milieu of '60s dance clubs, rich slummers and a remorseless assassin.

NO BORDERS, NO LIMITS: 1960s NIKKATSU ACTION CINEMA plays April 10–13 at the Yerba Buena Center for the Arts screening room, 701 Mission St., San Francisco. See ybca.org for ticket information.
Send a letter to the editor about this story.