04.09.08
home | metro silicon valley index | movies | current reviews | film review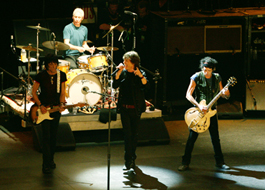 Photograph by Jacob Cohl
EVERYBODY MUST GET STONED: The Rolling Stones keep rolling on in 'Shine a Light.'
The Family Stones
Martin Scorsese's 'Shine a Light' captures the exuberance of a Stones show but doesn't reach greatness
By Jeffrey M. Anderson
AFTER FINALLY winning an Oscar for The Departed, director Martin Scorsese takes something of a break with Shine a Light, a Rolling Stones concert movie/documentary. The greatest drama has nothing to do with gangs, plane crashes or guns. Rather, Scorsese vainly tries to get his hands on a copy of the Stones' setlist so that he can figure out how to light and shoot the opening number. At one point, he is informed that the lights are too strong; if lead singer Mick Jagger stands too long in one spot, he can catch on fire.
But once the concert starts, we get a terrific show with a range of great songs (there are three from 1972's classic Exile on Main Street, plus the title song, which comes during the closing credits). The film gives the audience its money's worth with guest appearances by Jack White (on "Loving Cup"), Buddy Guy (on "Champagne & Reefer") and Christina Aguilera (on "Live With Me"). Clips of old interviews with the band members provide ironic insight on the present day. (We also get the Stones' version of "snappy answers to stupid questions.")
Best of all are the little onstage moments that get us closer to the action than a regular concert ever would. Cinematographer Robert Richardson (The Aviator) moves his swooping, gliding cameras right up onstage, so that we can witness Jagger and guitarist Keith Richards continually making eye contact as if relaying secret messages to one another; their exuberance and friendship come through clearly.
Drummer Charlie Watts has one priceless moment at the end of a song. He lets out an exhausted, happy breath. But for all this the film never reaches greatness. It's as if the band wanted to work with the world's greatest director, and the director wanted to work with the world's greatest band, and once they met they found they had nothing to talk about. It's a greatest-hits package with no sense of why we're here.
Scorsese has made some terrific nonfiction films over the years, including Italianamerican, American Boy, The Last Waltz and No Direction Home: Bob Dylan, but Shine a Light somehow lacks their frenetic, unquenchable passion. It also pales next to the definitive Stones film, Gimme Shelter, which not only captures the band at its Let It Bleed peak but also oozes social and political context. The closest Shine a Light gets to politics is when Bill Clinton attends a concert and meets the band beforehand (Hillary is with him, but only briefly glimpsed). No, the most amazing thing about the new film is that the band members—now in their 60s—are in such good shape. They put on an incredible show, and Shine a Light works as an energetic, thrilling distraction, one that makes you want to go home and put on your Stones records again.

SHINE A LIGHT (PG-13; 122 min.), a film by Martin Scorsese, opens April 4.
Send a letter to the editor about this story.