04.09.08
home | metro silicon valley index | movies | current reviews | film review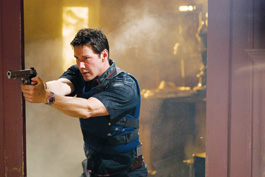 Photograph by Merrick Morton
Eat Hot Lead, Simon Pegg: Keanu Reeves takes revenge for the 'Point Break' jokes in 'Hot Fuzz.'
'Street' Wise
Keanu Reeves' cop in 'Street Kings' not only shoots first, he doesn't even ask questions
By Richard von Busack
THE LOFTILY titled Street Kings is the newest by James Ellroy's sometimes collaborator David Ayer. The film follows up the fraught but interesting thug-opera Harsh Timesand the neglected 2002 Ayer-scripted policier Dark Blue, both of which Street Kings resembles. Ayer is currently figuring out a remake of Andre de Toth's terrific 1954 film noir Crime Wave.
As a director, Ayer often takes the easy road; scenes are done because they've always been done: the helicopter shots as bridges between bursts of action, the smog-tinted rising or setting sun in time lapse. Unfortunately, Ellroy's script is co-written by Kurt Wimmer, a proven expert in the preposterous (Equilibrium, Ultraviolet). He is probably responsible for the lines that stick out like sore thumbs: the repetition of the assertion "You need me!," meaning the importance of the bad cop in a milieu like L.A.
The violence comes out with little preparation and looks real, such as the anti-hero cop bitch-slapping a suspect with the Yellow Pages, or using the hook of a handcuff to control a man like a fisherman would control a trout.
The complicated story begins with the blat of an alarm clock in the dark. The lights come on, and we see Det. Tom Ludlow (Keanu Reeves) asleep in his clothes. He checks his gun, gets up, gives the mirror a good long look and then dry-heaves the previous night's booze.
Ludlow gets into his fast black car to head downtown for his first stop of the day, an illegal machine-gun sale out of the trunk of his car. He ingratiates himself with some thugs in Koreatown by greeting them with "Kon-ichiwa." It's a joke I would have liked better if it went unexplained, but explained it gets.
The thugs beat Ludlow up for this and other insults, and pinch his car; Ludlow tracks his ride to their midtown fortress, retrieves a large gun from the trunk and ventilates the household, even killing one gunman who was on the toilet. ("How could you do that?" complains another cop later on, as if he, too, hadn't seen Pulp Fiction.)
After the occupants are safely dead, Ludlow finds that a pair of kidnapped underage twins have been imprisoned for the purpose of Internet porn. Riding up with the rest of the police to congratulate the detective is Ludlow's bosom friend, protector and boss, Capt. Jack Wander (Forest Whitaker).
Not everyone appreciates Ludlow's policy of not just shooting first but not asking any questions at all. Ludlow's former partner, Washington (Terry Crews, a heavy-gravity actor who plays the father on Everybody Knows Chris), has had a crisis of conscience and has been snitching to Internal Affairs. When Ludlow spots Washington at a downtown liquor store, he is about to settle the matter—he has his fist wrapped up in his belt as impromptu brass knuckles. That's when a pair of AK-47-wielding thugs waste the place. As Ludlow draws his weapon, he accidentally shoots Washington in the shoulder; this hardly matters, since Washington takes about 85 bullets by my count.
The whole department, and especially Internal Affairs' faux-friendly James Biggs (Hugh Laurie), knew Ludlow was furious at Washington, so this extra bullet looks bad. Two usual-suspect drug runners are being framed for the killing, and Washington's corpse bears evidence that the cop had been reselling heroin from the LAPD's evidence stash. Ludlow decides to find out who was really responsible for the hit, with only the help of a young, honest cop, Paul "Disco" Diskant (Chris Evans).
Street Kings goes back and forth between the believable and the entertaining. Whitaker's ambiguity is always a pleasure. Which of those two eyes can one trust? The warm, clear, friendly one or the drooping frightening one? Jay Mohr, given a mustache to make him look more insincere, plays a detective who might be in deeper than it seems. 
In the lead, Reeves looks like a middle-aged teenager (come to think of it, so did Kurt Russell in Dark Blue). The suggestion of a double chin coming in just makes him look more childlike, as if it were baby fat instead of booze fat. Reeves has been a movie star for so long that it's no longer important whether he can act or not. He is the perfect blank pre-moral hero; he looks like a smudgy photostat of Clint Eastwood.
Ayer tries his best to avoid those scenes with the women that put a brake on the action, but he can't get around it. The rogue cop is tended by a helpful nurse (Martha Higareda) who is so one-dimensional she barely casts a shadow. When Ludlow visits a policeman's widow (Naomie Harris), she begs Ludlow not to take revenge on the killers: "Not in my name," she says, as if she were protesting the war in Iraq.
The politics of the movie was, I think, more responsible for the polishing away of the grit in the script than anything else. The arc of Ludlow's character aims for desolation and destruction, and yet this movie finishes as right-wing pulp, endorsing the view that the LAPD needs covert lawbreakers for "exigencies." Unfortunately, it's not the exigency of crime but the expedience of script-writing we're dealing with here.

STREET KINGS  (R; 107 min.), directed by David Ayer, written by James Ellroy, Kurt Wimmer and Jamie Moss, photographed by Gabriel Beristain and starring Keanu Reeves and Forest Whitaker, opens April 11.

Send a letter to the editor about this story.