04.09.08
home | metro silicon valley index | music & nightlife | band review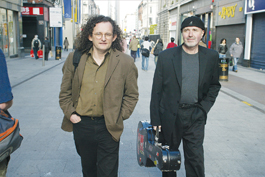 Musical Investigators: Martin Hayes and Dennis Cahill walk the beat in search of clues.
Irish Prog
Hayes and Cahill take a progressive approach to Irish music
By Andrew Gilbert
IT TOOK an adventure in Oz for Dorothy to discover that there's no place like home. For fiddler Martin Hayes, it was a sojourn with a Celtic rock band in Chicago that eventually led him back to his Irish roots through an extraordinary acoustic duo with guitarist Dennis Cahill. Hayes and Cahill celebrate the release of their new album, Welcome Here Again, (Green Linnet).
The son of P. J. Hayes, the leader of the celebrated Tulla Ceili Band, Martin grew up in County Clare and his ravishing fiddle style is marked by the graceful lyricism long associated with that region. But when Hayes moved to Chicago as a young man, he began a winding musical journey that eventually led him to Cahill in the power quartet Midnight Court—a band the guitarist describes as "the Dixie Dregs of Irish music."
"We had a fusion drummer, a jazz bass player," Cahill says. "We were playing tunes but we were twisting them around and taking them inside out, and we played really loud and really fast all the time."
By the mid-'90s, Hayes and Cahill had shed their electric band mates and formed an unplugged duo. With a repertoire of traditional Irish tunes, they've honed a sublimely balanced chamber music sound in which their instruments often seem to breathe together. While both musicians have the utmost respect for their source material, they came to the music with a progressive sensibility. The result is a loose but finely calibrated approach that transforms dance music into concert hall fair, retaining the original terpsichorean impulse while lavishing attention on melodic lines that evoke life's sweetness and inevitable sorrow.
For Hayes, the duo has been a vehicle for musical investigation rather than an exercise in reclaiming his youth. The eclectic nature of his early career allowed him to "get rid of preconceived notions and begin to free myself up," says Hayes from his home in Seattle, "so I could make independent choices that I could be sure weren't based on sentiment or nostalgia. The end result of all the experimentation, the sacrilege, if you want to call it that, is that you come to another kind of understanding. The point is that you start out as a kid with a naive, unquestioned confidence in what you do. Then you kind of have to have a lack of faith and question it and take this whole other journey, so you come back to the music in an even stronger way."
The fact that Cahill has found his main musical expression in traditional Irish music is more of a surprise. His parents were native Irish speakers who came to Chicago in the late 1940s, but he grew up with little exposure to Gaelic music, and didn't visit the old country until he was about 30. He studied at Chicago's prestigious Music College and performed everything from European classical to blues, folk, pop and rock before he and Hayes took up as a duo.
He's quick to acknowledge that his immersion in the traditional Irish repertoire is "a bit strange, considering where I started from and the things I studied," Cahill says. "But Irish music has an incredibly strong, pure musical core to it."
The duo first documented their sublime connection on 1997's The Lonesome Touch, and followed up with 1999's Live in Seattle. It's been far too long a wait for their third release, but they've rewarded their fans' patience with their third CD. Listening to Welcome Here Again is to hear two artists communicating at the highest musical level.
There's a quiet intensity to their collaboration that makes the music feel complete, although part of its beauty is the sense of spaciousness. "We're not anti-social," Cahill says, "but there's an ease and comfort of just doing it with two people. And we haven't seemed to run out of ideas yet, so we just let it roll along."
"It's so open and adaptable," Hayes says of the duo. "I can change my mind onstage about how many times a tune is going to go around. We can call and respond instantaneously. I've worked in bands a lot at different times in my life, but I've got to say I enjoy that freedom."
MARTIN HAYES and DENNIS CAHILL perform on Wednesday and Thursday (April 9–10) at 8pm at Freight & Salvage, 1111 Addison St., Berkeley. Tickets are $25.50. (510.548.1761)
Send a letter to the editor about this story.