04.09.08
home | metro silicon valley index | the arts | stage | review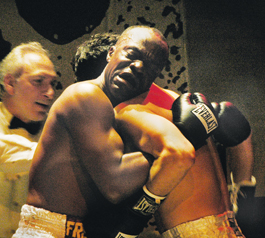 FIGHTING TRIM: L. Peter Callender (center) and Johnny Moreno clinch while ref Michael Bellino checks the action in 'Blade to the Heat.'
Tough Gloves
S.J. Stage Company's ring drama, 'Blade to the Heat,' scores a knockout
By Marianne Messina
THAT MADONNA'S film company has been courting Oliver Mayer's play Blade to the Heat for years is no wonder—this play is sexy, including a Full Monty, running-water shower scene that earned an approving "Hello!" from the Friday audience at San Jose Stage Company. Conventional sensibilities aside, the sensuality of half-naked men and the sadomasochistic delights of boxing are no secret. But Mayer takes the theme one step further and posits that all those thumps and lock holds are a twisted way to force intimacy from an unforgiving, alienated world.
As the play, book-ended by two Quinn-Decima boxing matches, develops this idea, it causes the audience's understanding to shift. By the rematch, each blow, reaction and hold has come to take on a revised meaning. Training at the same gym under also-rans Alacran (Carlos Barón) and Three-Finger Jack (Rhonnie Washington), black Cuban boxer Mantequilla Decima (L. Peter Callender) fights to maintain his title against Chicano boxer Pedro Quinn (Johnny Moreno). Quinn, a strange sullen fighter who smiles after taking a punch, wins the title from Decima, and the latter wants it back. Complicating things, when Puerto Rican Vinal (Victor Ballesteros) is beaten by Mantequilla, he taunts Mantequilla by saying that at least he (Vinal) hadn't lost to a maricon like Quinn (Latino accents make Quinn sound like "queen"). Now, Mantequilla's quest to regain the title is tinged with panic.
Alacran and Jack each champion one of the boxers, and rivalries thicken. Mayer's play is steeped in the sexual and ethnic politics of the 1950s. In varying degrees of self-awareness, the characters creep sorely around their unique needs for and frustration of intimacy. "I watch the men holding on. I see the closeness, and I see the fear of what they can and cannot touch." As Mantequilla trains for the rematch, he becomes more distanced from his lovely Los Angeles girlfriend, Sarita (Melissa Navarro), while the enigmatic Quinn moves toward a halting, fettered friendship with Garnet (Vontress Mitchell), a James Brown impersonator. Even set mostly inside the red and tan ropes of a white-floored boxing ring, this play feels as much like a relationship story as a boxing story. And surprisingly, everything hangs together.
The cast is superb. Moreno's Quinn has a soft, hangdog Jake Gyllenhaal way about him. This complements Mitchell's Garnet, whose carriage has the mark of self-acceptance. Finessing the James Brown "knee drops and one-legged shimmies," Mitchell brings off one of the play's high points—both for its musical brilliance and its emotional significance—when he stops lip-syncing to sing his own soulful improvisation to "The Tears Will Tell All." This artful scene is matched by a hot tango sequence—legs between legs, approaches and feints, supportive lifts—between Mantequilla and Sarita (stunning and svelte in her tiered black skirt). Navarro's Sarita is at once comely and kind. Ballesteros adds a touch of slime to the casino-slick Vinal, a "loser" whose main game is head games. Director Tony Kelly nicely integrates music and boxing by accompanying fight scenes with Latin dance music. The boxing has a stylized feel, including a clever slow-motion punch, but it is also tough, grueling, well choreographed—and yes, sexy.
BLADE TO THE HEAT, a San Jose Stage Company co-production with Thick Description, plays Wednesday–Thursday at 7:30pm, Friday–Saturday at 8pm and Sunday at 2pm through April 27 at the Stage, 490 S. First St., San Jose. Tickets are $28–$35. (408.283.7142)
Send a letter to the editor about this story.