April 11-17, 2007
home | metro silicon valley index | the arts | books | review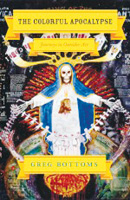 The Colorful Apocalypse: Journeys in Outsider Art
(By Greg Bottoms; University of Chicago Press; 182 pages; $20 cloth)

English professor Greg Bottoms cuts through the crit-speak about outsider art in his short but compelling journey through the South (with a detour to Wisconsin) in search of Christian visionary artists. Noting that his own brother was schizophrenic, Bottoms takes seriously the idea that tr ue outsiders are driven to express themselves for reasons that have nothing to do with art-world imperatives and everything to do with psychological need. Instead of being mere "gaudy eccentrics," these wild artists believe that "the act of art could be a salve, an elixir, a temporary balm glazed over the chaos." Bottoms visits Paradise Gardens, the complex of obsessive painting, sculpture and architecture created by Rev. Howard Finster, whose family now feuds over his legacy; Myrtice West, who paints "bright, childlike, one-dimensional scenes of the Fall of Man" that remind the author of "old folk ballads: violent, death-dealing and death-haunted, demanding of your attention"; and William Thomas Thompson, who found God after suffering a stroke and paints disturbingly anti-Semite works in the studio of ramshackle mansion and mutters darkly about Masonic conspiracies. In Wisconsin, Bottoms enters the isolated north woods retreat of Norbert Kox, who once rode with a biker gang before creating such works as a "six-foot, bearded Statue of Liberty ... in a devil's mask, with '666' written across her forehead [and] wearing four bras." Bottoms provides a canny mix of personal memoir, fractured interviews and historical and theoretical context. But strangely, what comes through most vividly is the way that the mainstream culture has absorbed these outsiders. At the American Visionary Art Museum in Baltimore, for instance, "You, the art consumer, are invited to witness the raw expression of the marginalized and disenfranchised [and] have a nice, pricey meal." As much as he is attracted to the sense of mission these artists espouse, Bottoms also, finally, finds himself drawing away from the flame of mad purpose: "Maybe art, this kind of raw art, this dirge and purge of internal blackwater, is as often as not a trap, a prison."
Review by Michael S. Gant
Send a letter to the editor about this story.