April 11-17, 2007
home | metro silicon valley index | silicon valley restaurants | review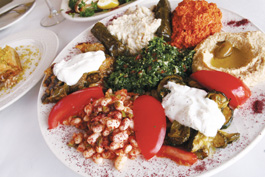 Photograph by Felipe Buitrago
Bet on this spread: Sultana's combo platter features all your Middle Eastern favorites.
Use Your Hands
The Turkish cuisine at Sultana in Menlo Park is worth digging into
By Cheryl Sternman Rule
FANCY SAUCES can make anything taste good, but when a simply prepared dish offers pitch-perfect flavors without gimmick or adornment, it can truly blow your mind. Such was the case with the sea bass during my recent visit to Sultana, a year-old Turkish restaurant on El Camino Real in Menlo Park. The fish ($23.95), an off-menu item usually available as a special, gets baked whole in parchment with nothing more than olive oil, red onion, lemon, salt and pepper. If you're bothered by bones, get over it—extracting them from your mouth is a small price to pay for the fish's succulent flesh.
"In Turkey we like to lick the bones," says Istanbul-born owner Mehmet Karacuban, whose numerous family members help run the kitchen and front of the house. "We don't use utensils for fish. We use our hands."
It comes as no surprise that Sultana knows its fish. After all, much of Turkey is surrounded by water, with the Black Sea to the north, the Mediterranean to the south, and the Aegean to the west. Other hallmarks of this vibrant cuisine include chicken, lamb, lemon, yogurt, pistachios and sumac, a fruity, astringent seasoning made from ground berries. You'll find all these foods in abundance on Sultana's traditional menu.
Sultana (the name, according to Karacuban, means "lady king" or "queen") is Karacuban's first venture into restaurant ownership, but he and his family are no strangers to the industry. The chef is his father-in-law Sultan Ulas, who has cooked professionally for four decades. Ulas owned a Turkish restaurant in Redwood City for many years until a heart attack forced him to leave. Having recovered, he now shares kitchen duties at Sultana with his wife and daughter and cooks part-time at Union City's Mr. Kebab, as well.
Sultana's large, carpeted dining room is filled with warm woods, wall-mounted tapestries and copper pots. My first visit was on an eerily quiet Sunday night, but when I returned on a Friday evening the place was packed. Waiters buzzed about the candlelit dining room in gold-trimmed vests, Turkish music played softly and couples and families shared platters of food. The outdoor patio is another seating option, one that's especially appealing on a breezy day or warm evening. With its gurgling stone fountain, flowering plants and piped-in music, the space is so pleasant you forget how close you are to the parking lot.
Appetizer options abound. Lahmacun ($5), a charred flatbread topped with ground lamb, parsley, onions and tomatoes, was one highlight. The addictively crisp, pizza-like starter is served in wedges and easily feeds two. The combo appetizer ($12.95) was also very good: mounds of spicy ezme (pureed tomatoes, walnuts and onions), hummus, baba ghanoush, tabbouleh, dolmas, piyaz (white beans), kizartma (yogurt-bathed peppers, eggplant and zucchini) and fried zucchini are served with lavash for scooping. If your group is too small to justify the large platter, you can order any item individually. My vote goes to the extra-smoky baba ghanoush ($4). Skip the soggy dolmas ($4.95).
As for entrees, the sea bass is a no-brainer, but you also can't go wrong with any of the kebabs. Sultana offers several, and they're uniformly moist and flavorful. Your choice of cubed lamb ($9-$12), chicken ($9) or seafood ($12) is threaded on metal skewers and served with rice (or bulgur) and a sumac-sprinkled green salad. (Note to chef: lose the mealy tomatoes. Your otherwise excellent food deserves better.) A crisp and refreshing Turkish pilsner goes down easy with everything.
Most of the appetizers and kebabs appear on the lunch menu, but so do six substantial lavash-wrapped sandwiches ($6.50-$7.50). These are a good value and an ideal way to flirt with Turkish cuisine if you're on a budget or short on time.
If you're hankering for dessert, the not-too-sweet chocolate baklava ($6.50) takes top honors. Sultana serves the flaky pastry with vanilla ice cream and chocolate sauce, an Americanization that's quite unnecessary given how nice the baklava is on its own. Also try the unusual rice pudding, which delivers the pure flavors of sugar and vanilla in a thin, milky base studded with rice and topped with crushed pistachios. It's baked in the oven until a thick skin forms and then refrigerated until icy cold. I had to fight off my dining companion for the last spoonful.
If you've eaten Greek, Persian or Middle Eastern food, you'll find much that's familiar as you delve into Turkish cuisine. Sultana makes your introduction easy with its warm service, well-executed dishes and soothing ambience. This is a restaurant worth visiting.
---
Sultana Restaurant
Address: 1149 El Camino Real, Menlo Park.
Phone: 650.322.4343.
Hours: Mon-Fri 11am-2:30pm, 5pm-10pm; Sat-Sun 11am-10pm.
Cuisine: Turkish.
Price Range: Sandwiches $6-$8, entrees $9-$24
Send a letter to the editor about this story.