April 11-17, 2007
home | metro silicon valley index | columns | live feed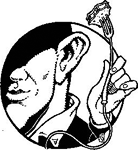 Live Feed
Chocolate Is Flowing Like a River
By Cheryl Sternman Rule
The first time I attended Rivers of Chocolate, an afternoon-long tasting orgy benefiting San Jose nonprofit EHC LifeBuilders, I chucked moderation straight out the window. What's the point in smiling demurely and saying, "Oh, no thanks, I just couldn't take another truffle," when all the money goes to helping at-risk youth? The next morning, as my head pounded and I discovered a new roll of fat I swear hadn't been there earlier, I took comfort in knowing that my unrestrained gluttony had actually been a noble act of sacrifice. It's for charity so it's OK that I inhaled my body weight in bonbons.
You too can do good by eating well at the 11th annual Rivers of Chocolate festival on Sunday, April 29, from 1pm to 5pm. For the past several years, the event has been held at the Mountain Winery, but this year it returns to its original site at the Montalvo Arts Center in Saratoga. The $100 tickets, which buy you unlimited food samples and wine pours, are only available in advance, and as the event sells out every year you shouldn't dillydally if you want a ticket.
Thanks to generous corporate sponsorships and the willingness of participants to donate their time and chocolaty fare, 100 percent of proceeds benefit EHC LifeBuilders' youth division, which offers wide-ranging programs for 400 children and teens in Santa Clara County. In addition to education mentoring, truancy abatement, counseling programs and family reunification programs, the nonprofit operates an emergency shelter for runaways and transitional housing for those who've aged out of the foster care system. The event raised nearly $100,000 last year and is by far the agency's biggest annual fundraiser.
Some longstanding participants include Day Break Gourmet Cafe of San Mateo, Not Just Cheesecakes of Campbell, Guglielmo Winery of Morgan Hill, the Plumed Horse of Saratoga and the Fairmont Hotel San Jose. This year they'll be joined by nearly 45 other chefs, chocolatiers, confectioners and vintners doling out morsels and libations, the vast majority with a chocolate theme. According to Ragan Henninger, director of development and communications for EHC LifeBuilders, cultivating long-term relationships with participants has kept them coming back year after year.
"Many do it every year because they not only love the event, they can appreciate the cause. We asked back the best of our past participants and only opened up slots for new participants in the past couple of weeks."
You'll also find live music, a raffle and two auctions. A Harley was the big auction draw in years past, but this year's winner will have to settle for an Acura SUV. Ah, sacrifice. For more information or to purchase tickets, go to www.riversofchocolate.org.
Send a letter to the editor about this story.