April 11-17, 2007
home | metro silicon valley index | the arts | books | review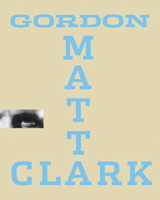 Gordon Matta-Clark: You Are the Measure
(Edited by Elisabeth Sussman; Yale University Press; 256 pages; $50 cloth)

Artist Gordon Matta-Clark was the son of Surrealist Roberto Matta and the godson of Marcel Duchamp. Unstifled by these impeccable artistic bloodlines, he forged his own identity as a Conceptual and performance artist in his sadly short (1953-1978) life. In the late '60s and early '70s, Matta-Clark staged guerrilla street-art pieces (jacking up abandoned cars so that the homeless could find shelter underneath them; filming the theatrical destruction of his pickup truck; providing hits of oxygen to smog-wracked Manhattanites) and formed the center of a restaurant happening called Food, immortalized in a film by photographer Robert Frank. Matta-Clark's most audacious and influential work involved turning architecture into sculpture by various processes of deconstruction. For Splitting, the artist took a chainsaw to a two-story wood-frame house in Englewood, N.J., and neatly bisected it—the photos show one half listing slightly downward on the foundation and a neat wedge of sunlight coming through the narrow gap in the middle. Most famous were Matta-Clark's "cuts," in which he (sometimes at considerable danger, dangling from ropes) sliced complex openings in buildings. Day's End, an orange-wedge-shaped opening in the side of a pier warehouse, creates majestic patterns as the sunlight flows in and illuminates the large, girder-spanned interior. Conical Intersect involved a series of circular cuts of varying sizes and relations to the exterior and interior walls of an old building scheduled for demolition in Paris. The cuts reveal the bones of the structure and expose fascinating perspectives for passersby (much of Matta-Clark's art exists only in the form of photo and film documentation). Matta-Clark carted chunks of buildings into galleries, where they functioned as found sculpture, full of interesting textures from layers of wood framing, wainscoting, shingles and overpainted floor boards. Matta-Clark died of cancer when he was just 25; this volume does a considerable service in reviving the career of a unique artistic sensibility.
Review by Michael S. Gant
Send a letter to the editor about this story.