April 11-17, 2007
home | metro silicon valley index | the arts | stage | review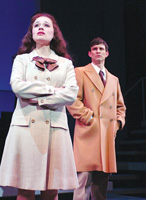 Photograph by David Allen
Parting ways: Beth (Lianne Marie Dobbs) walks out on Frank (Damon Kirsche) in 'Merrily We Roll Along.'
Backward Unreel The Years
Stephen Sondheim's 'Merrily We Roll Along' tracks a producer's career back to its heady start
By Marianne Messina
STARTING AT a 1976 party in Bel Air to celebrate Frank Shepard's successful film Darkness Before Dawn, Stephen Sondheim's musical Merrily We Roll Along (book by George Furth) rolls merrily backward from the darkness of middle age to the dawn of youth. The first few scenes appear to be a Frank Shepard (Damon Kirsche) roast, centered on the fouled friendship between him and his friends Mary Flynn (Molly Bell) and Charley Kringas (Robert Brewer). "How did you get here?" sings the chorus. ("Where will you take this?" sings the critic.) TheatreWorks mounts the trio's reverse journey on an elegantly simple set. Wide staircases and platforms give us multiple levels of action; tall, movable panels configure various New York skylines with skyscrapers, some a watercolor blur, others clearly outlined and dotted with window lights. In the blur of the 1976 skyline, Mary is drunk, Frank is not talking to Charley and Frank's long-time flame, now wife, Gussie Carnegie (Riette Burdick), is leaving him.
The next scene goes back three years to when Charley ridicules Frank on a television talk show (gotta love the frosty body language of the TV interviewer, played by Diana Torres Koss, as she primly shuts Charley out). At this point, we have to wonder, is Frank really that bad or are all his friends kind of kooky? Kirsche keeps the question alive, playing Frank as a man who, while decent, is also inscrutably smooth. He burns his bridges in the name of growth (as his friend Mary once advised him), but he does so passively, through other people, like Gussie.
Probably the most fun character, Broadway star and socialite Gussie follows her nasties (like spilling drinks on the competition) with her medical malpractice mouth: "Oh, I'm going to open my veins" or "I'm calling the surgeon general tomorrow and having him cut out my tongue." Burdick's Gussie tempers her voluptuousness with chutzpah more than charisma. As Sondheim's Eve-in-the-garden music comes in, Burdick applies her hips to it with a kind of Mae West deadliness.
Just so you're not waiting to find out how the characters use the wisdom gained from the past to make a wiser future, the play doesn't go there. It unravels the past for about three numbers too long and packages it all in the (repeating) title song—a kudzu of lyrics about dreams and choices. The show's real substance comes from the way it peels back deadened lives to find the emotional nerves and pulse beneath. Songs (and to his credit, director Robert Kelley's scenery with designer Joe Ragey) get crisper and livelier as time rolls back to the 1950s. The boldest and most well-lit skyline appears in later scenes. At this point, Mary is submitting stories and books, getting hired by ever-glossier magazines; Charley is writing vital, topical plays; and Frank has a head full of songs inspired by Charley's work. TheatreWorks and Sondheim click in this scene. With Mary and Charley at two typewriters and Frank at a piano, it all comes together—the tick-tack of typing, the responses on piano, the rapid-fire chatter of three people condensing the highs and lows of two years into a matter of minutes. This quickly paced tour-de-timing captures the exuberance of beginnings.
Although abstract dance numbers offer little to startle, wow or enthrall, this cast puts exceptional character and humor into verbally driven ensemble numbers like "The Blob" (a song that was actually cut from Broadway previews). The formal-wearing, drink-toting blob move in a line to punch their up-turned fawning or down-turned disapproval with edicts like "fabulous" and "dreadful." Sondheim gives us some beautiful songs: especially "Not a Day Goes By," wonderfully introduced by Lianne Marie Dobbs (if you miss a good tune, don't worry; it'll be back). Other familiar talents—Brewer, Bell, Stephan Smith Collins as the dapper producer Joe—maximize Sondheim's vocal richness. Brewer's mid-life Charley is a curious blend of bitter, lost and almost unhinged. Bell shifts Mary's cynicism to cheerful realism without a sugarcoating. Over the set, dreamy mauve tones (Pamila Gray, lighting) bathe most of the play's action. But as Sondheim/Furth bring us perforce to a youthful frame of mind, Kelley and Gray leave a deep pink light burning through the purple sky as a parting image.
Merrily We Roll Along, a TheatreWorks production, plays Tuesday (except April 24) at 7:30pm, Wednesday-Friday at 8pm, Saturday at 2 and 8pm (no 8pm show April 15) and Sunday at 2 and 7pm (no 7pm show April 29) through April 29 at the Center for the Performing Arts, 500 Castro St., Mountain View. Tickets are $20-$60. (650.903.6000)
Send a letter to the editor about this story.