April 11-17, 2007
home | metro silicon valley index | music & nightlife | preview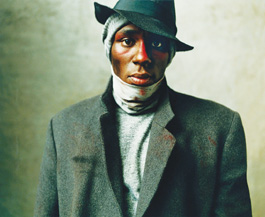 Worse for the wear: For some reason, Mos Def never got his own clothing line.
Blue on Both Sides
Mos Def loses a fan; a fan loses Mos Def
By Bryan Levine
I NEED to tell Mos Def that this just isn't working out anymore. I'm moving on, maybe for El-P, or Oh No, or some other dual-syllabic rhyme spitter. Mos and I will remain friends, occasionally catching up via iPod, but the times have changed in the decade since he put out Black on Both Sides, and we are both different people now. Maybe he'll never produce anything noteworthy again, but I will always remember the two years I spent with him on Black on Both Sides, with its teary-eyed street-corner dreams and clever sociopolitical observations.
In the winter of 1999, I had a girlfriend whose emotional needs were far too demanding for her last five boyfriends, which, unfortunately, I discovered much too late. Her only redeeming quality—if you can call him that—was her ghetto-conscious brother. He was four years older than me and loved nothing more than to sit in his room, smoke pot and listen to hip-hop while schooling his sister's guero boyfriend at videogame basketball. It was during such a bout that I first heard Mos Def's "Ms. Fat Booty" from his debut solo album, Black on Both Sides, blasting from the stolen surround-sound system in the black-lit room. This was nothing like the stereotypical, misogynistic gangsta rap plaguing the airwaves and MTV at the time.
Mos Def, along with Common, Talib Kweli, Q-Tip and others, helped to change the perceptions of hip-hop from the belligerent monster it had become into a glorious means of expression through poetry and rhyme. I bought Black on Both Sides at the Wherehouse the very next day and didn't stop listening to it for almost two years. My relationship didn't even last half that long.
Black on Both Sides was an instant classic, still getting heavy rotation in clubs and on more palatable radio stations during the five-year wait for his new album, when Mos was busy starring in Hollywood blockbusters like The Italian Job, 16 Blocks and Hitchhiker's Guide to the Galaxy. He was nominated for an Emmy or two, appeared on several episodes of Chappelle's Show and hosted Russell Simmons' Def Poetry Jam on HBO for almost five seasons.
In that short time, hip-hop changed again into a media-savvy, ringtone-selling, fur-coat-wearing monolith. Diddy and 50-Cent ruled the world with their clothing lines and shoddy remixes of the same songs over and over again. I got a newer, better girlfriend who didn't have much taste in music but had a firm grasp on reality. I was still desperately waiting for a new Mos Def album to reinvigorate my interest in politically and socially conscious hip-hop.
When his first label, Rawkus Records, folded under financial pressure, Mos Def signed to Geffen Records, which finally released his follow-up, The New Danger. Even though the first single, "Sex, Love and Money", earned him a Grammy nomination and The New Danger went gold, Mos Def was accused of selling his sound to David Geffen. The critics were half right. With enough money invested in him to be as creative as he wanted, Mos haphazardly slapped together a concept album that was as amazing as it was annoying. He perplexed everyone with his eclectic experimentation, utilizing the production talents of Minnesota, but also playing with his live rock band, Black Jack Johnson. Half the songs on The New Danger were amazing, soul-inspired bits of brilliance—songs like "The Rape Over" and "Sunshine" re-established Mos Def with his roots and his fan base. But the rock-oriented half had a Fishbone/Bad Brains influence that just didn't work for most of his audience—"Zimzalabim" and "Freaky Black Greetings" left even the most obsessed fans between a rock and a hard place.
With his newest release, Tru3 Magic, Mos Def has returned to hip-hop in a very conventional and uninteresting way. The songs are stale and the production is not especially innovative. Again, even with famed producers like Minnesota, The Neptunes and Preservation, Mos Def made an album that just doesn't live up to the true magic of Black on Both Sides.
Sure, I'll continue to buy Mos Def albums, but only with the fading hope that I'll catch just a glimpse of the man I met almost 10 years ago.
Mos Def performs on Monday (April 16) at 8pm at the Leavey Event Center, Santa Clara University, 500 El Camino Real, Santa Clara. Tickets are $16-$25.(408.998.TIXS)
Send a letter to the editor about this story.