April 11-17, 2007
home | metro silicon valley index | movies | current reviews | film review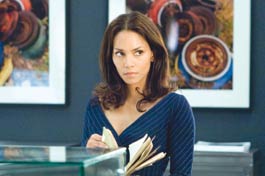 Photograph by Barry Wetcher
Pulitzer power: Halle Berry makes journalism look glamorous as she goes undercover to catch a rotter in 'Perfect Stranger.'
In the Boardroom
Halle Berry tries to nail a brutal Bruce Willis in office thriller 'Perfect Stranger'
By Richard von Busack
FRIGHTENING FRACTALS, blood-orange spheres shot with red veins—oh, God, no, not The Fountain again! What we're seeing is the opening to James Foley's Perfect Stranger: images of retinas and the dark side of eyeballs. Reversing orientation, Foley fills the screen to the max with the spaniel peepers of Halle Berry, who is getting her melting brown orbs scanned by a security guard. Berry's Rowena, as a reporter for the New York Courier, posing as a family values lobbyist, has come to grill a senator about his trysts with a male page. (The Mark Foley scandal must have made James Foley ashamed to be a Foley.) What started with eyeballs progresses down to feet: Perfect Stranger puts its wrong foot forward when it tries to show us how a reporter works. Management kiboshes Rowena's "Pulitzer Prize" story for a New York Post-style tabloid. Rowena discovers this betrayal while drinking with her creepy assistant, Miles (Giovanni Ribisi), the slave of a major crush.
All of this serves as prologue for the real story. A childhood friend of Rowena's got used fast and dropped hard by a married advertising titan, Harrison Hill (Bruce Willis). She leaves behind printed-out emails from the exec, a kinkmeister with a taste for dominance. After the friend turns up in the river, Rowena disguises herself as a single gal to lure Hill out online. Meanwhile, under another identity, she gets a job at his office. There, Willis lords over all, fighting off the frauleins, even if he does look like astronaut John Glenn with a samurai haircut. The story gets more tanglefooted with Rowena's backstory. Indescribably clumsy flashbacks pop up, demonstrating that Rowena is one of those women "whose dad among the dollies did," in e.e. cummings' words. ("Bath time!" slavers the incestuous monster. It was in the bathroom, not really among the dollies.) Rowena writhes in recovered memories, while across town Ribisi's Miles seethes in bile-green light like a figure in an Oskar Kokoschka painting. We can suspect that he is jealous.
To complement his end of the color wheel, Foley plants a scad of possible red herrings, including Josie (Daniella Van Graas), Hill's lesbian secretary, who wears leathers and metal belts that look like they're made out of handcuffs. By contrast, Berry dresses nicely in many clinging fabrics. That's fine, but this supposed Pulitzer Prize seeker has less understanding of email and online chat rooms than your granny in Dubuque. Brian De Palma might have been able to put rails under Perfect Stranger so we could glide over the almost impudent ridiculousness. Foley believes this is no mere Office Gothic but a penetrating analysis of what we conceal, our willingness to prejudge and the all-seeing eye of surveillance—hence the ophthalmology titles. On the one hand, Perfect Stranger is a movie in which there's not really a single completely sympathetic character, and that's brave. On the other hand, none of the characters really know how to draw boundaries well enough to survive a millisecond in New York City. And the art direction betrays Foley; one person has the silliest "stalker chapel," "Fincher room," or whatever you call it, since the disappointed Miami Dolphins player in the first Ace Ventura movie.

Perfect Stranger (R; 109 min.), directed by James Foley, written by Todd Komarnicki, based on a story by Jon Bokenkamp, photographed by Anastas N. Michos and starring Halle Berry and Bruce Willis, opens April 13.
Send a letter to the editor about this story.