April 11-17, 2007
home | metro silicon valley index | the arts | visual arts | preview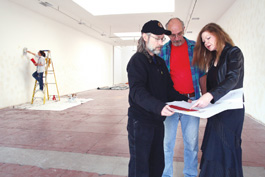 Photograph by Dixie Sheridan
Ready to hang: Designer Joe MIller (left), project manager John Hockney and executive director Erin Cizan look over the plans for the new WORKS/San José space on South First Street, while volunteer and artist Sue Weishaar tackles the walls.
Getting to WORKS
Longtime San Jose alternative gallery adds its vision to the SoFA District art scene
By Gary Singh
WHAT BETTER way to launch the newest location of San Jose's longest-running alternative art space, WORKS/San José, than to quote legendary 19th-century Freemason Albert Pike? The flier in the window at 451 S. First St. was designed by local hero Joe Miller; it reads, "The universe should be deemed an immense being, always living, always moved and always moving in an eternal activity inherent in itself, and which, subordinate to no foreign cause, is communicated to all its parts, connects them together, and makes the world of things a complete and perfect whole."
While that declaration holds more neo-Gnostic mystical connections than most San Jose gallery-hoppers will care about, it also perfectly describes WORKS—an art space that has always prided itself on being independent, transitory, antiauthoritarian, nonchalant and completely uncategorizeable.
When WORKS first set up shop in 1977, it was "alternative" long before a bunch of lame stoner bands took that term and made it a household word. And WORKS was never about just one artistic discipline. A wide mosaic of craziness has gone down at the constantly changing place, which is probably why it decided to launch its grand reopening inside the old home of the San Jose Institute of Contemporary Art on Friday the 13th.
Which brings us back to the mystical component. One of the old wives' tales about the origin of that fateful day dates to 1307 when King Phillip IV brought the hammer down on the Knights Templar. Supposedly, it was on Friday the 13th that they all were arrested for heresy. Since its inception, WORKS has always been associated with heresy, and this author first performed at the gallery in 1992. The fliers are up on MySpace if you care to investigate further.
According to Wikipedia, Friday the 13th "is well-known in the motorcycle (biker) community: Since 1981, motorcycle enthusiasts and vendors gather every Friday the 13th in Port Dover, Ontario, Canada. This tradition started on November 13, 1981 by Chris Simons as a gathering of approximately 25 friends. The event has grown substantially, with an estimated 100,000 people attending in August 2004, as well as music bands, vendors, a bike show, etc."
Which is exactly the attitude that should be happening in San Jose's gallery scene. WORKS, which used to be located on Third Street, will resoundingly amplify the spirit, the courage, the will, the guts and the character of San Jose's First Friday gallery-hopping scene. WORKS didn't quite make it in time for this month's romp around, but Friday the 13th rocks, too. It's a perfect night for art ingestion in downtown San Jose.
The ghost of Albert Pike himself may even be present, and after experiencing that quote in the window, I had to delve once again into my copy of his legendary tome, Morals and Dogma of the Ancient and Accepted Scottish Rite of Freemasonry.
Since any dialogue featuring phrases like "supreme council" or "grand lodge" gets the conspiracy folks dissecting the New World Order, it makes WORKS' new location even more relevant to the future of San Jose's alternative-art community.
WORKS is like a serpent in the sense that it may go underwater for a while, but it always comes raging back. It is an immortal institution. Now is a defining moment in San Jose's art scene, and we must conclude with another illumination from Albert Pike, since nobody anywhere in San Jose except WORKS would ever put him on a flier for an art opening: "Freemasonry is the subjugation of the Human that is man by the Divine; the Conquest of the Appetites and Passions by the Moral Sense and the Reason; a continual effort, struggle, and warfare of the Spiritual against the Material and Sensual. That victory, when it has been achieved and secured, and the conqueror may rest upon his shield and wear the well-earned laurels, is the true HOLY EMPIRE."
WORKS/San José opens Friday with a public reception, 7-9pm. The opening show, Body of Works: Community Mosaic, runs through May 12. The gallery is located at 451 S. First St., San Jose. (408.295.8378)
Send a letter to the editor about this story.