April 12-18, 2006
home | metro silicon valley index | columns | silicon alleys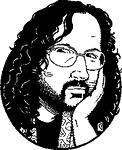 Silicon Alleys
Beverly vs. Johnny V's
By Gary Singh
OCCASIONALLY I have to vacate the confines of the South Bay in order to rope in the inspiration to construct this column, and being a nomadic type, I just have to weave and bob my way through several different circles of friends and spheres of influence. In this case, we have a yin-yang contrast of polar opposites: the corner of Wilshire and Santa Monica boulevards in Beverly Hills and the corner of First and Santa Clara streets in San Jose.
I originally found myself contemplating this while setting up shop in a room on the fifth floor of the Beverly Hills Hilton. I couldn't find one interesting TV show on the 42-inch plasma screen television, so I opened up the curtains and stared out across Wilshire Boulevard at the hills and the mansions. Palm trees dotted the landscape as far as my eyes could see. Even with a television in the bathroom, I couldn't manage the wee amount of spare time I had on this recent trip, so I was left to some solitary contemplation about the lap of luxury that is the Beverly Hills Hilton.
I decided to conduct auxiliary explorations outside on Merv Griffin Way, as well as at the rooftop restaurant Stardust. Inside, while gallivanting down the hallway toward the legendary Trader Vic's, I passed by numerous black and white photos of celebrities from days gone by—Hitchcock, Bogey, Dino and Audrey Hepburn, to name but a few. The entire establishment is the quintessential place in which to search for the lost celebrity within one's self.
Of course, my excursion to the heart of Beverly Hills had to eventually come to an end. After flying straight back to San Jose last Wednesday, I deliberately walked on over to a scenario exactly the polar opposite of Beverly Hills: the bus stop at First and Santa Clara streets. You all know it. Or maybe you don't. In any event, I stood there and surveyed the usual scene: garbage, bums, homeless, dealers, halfway house inhabitants, urine, empty soup cans and what not. As I scribbled down comments in my designer notebook, courtesy of Santana Row, a policeman drove by, honked and waved at a few of the homeless folks.
Basically, the entire scenario gave skid row a good name and only one business on the block was hopping: Johnny V's, a burgeoning hole-in-the-wall live music bar that just happened to be hosting a band called the Forgotten, one of San Jose's most enduring and spirited punk rock outfits. The cop who had just driven by would probably not have enjoyed their lyrics. Out in front, a few Triumph motorcycles were parked at the curb and a handful of vintage bicycles sat locked up against the poles and trees. The show rocked with anti-authoritarian savoir-faire and it turned out I was the only guy in the place with long hair. In fact, "the forgotten" pretty much describes the assortment of individuals who populate that bus stop outside. If they could afford to slam drinks at Johnny V's along with the rest of 'em, they'd probably consider that bar to be Beverly Hills. So there you have it. We will now refer to Johnny V's as the Beverly Hills of the Santa Clara Street block between First and Second. Everything else on that block is rundown, dilapidated and falling to pieces. And at Johnny V's, the rum drinks are a lot cheaper and stronger than what you'll find at Trader Vic's in Beverly Hills, thank you very much.
Contact Gary Singh or send a letter to the editor about this story.