April 12-18, 2006
home | metro silicon valley index | movies | current reviews | film review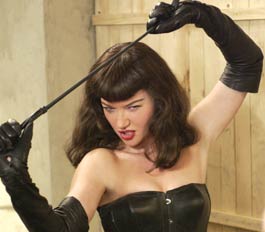 Photograph by Abbot Genser
The Whip Hand: Gretchen Mol dons the shiny leather goods to become 'The Notorious Bettie Page.'
Knotty but Nice
Pinup goddess Bettie Page was a good girl, and she liked George Bernard Shaw
By Richard von Busack
COY AND DECORATIVE as the film is, it's hard to say much in favor or against The Notorious Bettie Page. The appealing, if arch, Gretchen Mol looks something like the famed cheesecake demigoddess. Made up in black bangs, dressed in an industrial-strength garter belt and opaque stockings, she is easy on the eyes. Still, almost any woman looks like Page when she gets the components together. It was Jennifer Connelly, though, who really resembled Bettie enough to stop traffic in 1991's The Rocketeer.
Director Mary Harron restages the craft of the model, whose surviving films and photos are more spicy than erotic. Harron shows us the peculiar props, the stuffed gorillas, clown dolls and the cruelest of cruel shoes. They dwell on the strangest passage in Page's career, the fetish films she made for Irving and Paula Klaw (Lili Taylor). The Klaws did their part in the birthing of fetish photography. It seems that much of the ropes-and-vinyl iconography was brought overseas by the hard-drinking English photographer John Willie (Jared Harris, who is in danger of turning into a compost heap).
Turns out that Page was a haunted Christian and denigrated for the kind of work that would have made her a diva three decades later. Harron portrays Bettie as a woman who gave the camera a great deal, without being erotically possessed. The movie shuts the door on Page's sex life, instead concentrating on how her photographs and 16 mm films led to a government investigation. The cops were unable to see how Page understood her work as playful and silly. If the taste for bondage is ever reinvented as a disease (and there are no settled questions anymore when it comes to sexuality, the same battles seem to be fought again and again, decade after decade), Page's wholesomely bland air-spankings, her lashless whips, will have to be an exhibit for the defense.
Bettie's real vocation was to act onstage. Mol portrays Bettie as a stiff-as-a-board actress in serious theater. She does Shaw, mostly The Dark Lady of the Sonnets; the scene suggests that there may not really be such a thing as a bad actress (except for Tori Spelling), only any actress who never quite got the right role. Certainly, Page had a great talent for cleansing the dirtiest impulses. As cheesecake photographer Bunny Yeagar (Sarah Paulson) says here, Page had the quality of being naked without being nude.
The Notorious Bettie Page may just be made out of nostalgia for the cosmic power of the vulva in old '50s girlie pictures. Back then, a hairline of shadow could make oglers think they were seeing the ultimate unphotographable holy of holies ("I saw it! I saw beaver!" shouts one of Bettie's fans). Again, if that's all the film is about, does it really exist for any reason, other than to have Mol strut her stuff in the famous Page outfits? Maybe that is enough. Still, naughtiness is hard to sustain for 90 minutes. Harron's direction is flattest when it's meant to be most significant. The funniest line—Paula Klaw giving the title of Bettie's latest stag film—raises only a molehill of laughter, against the mountain Harron tries to make out of Page's career.

The Notorious Bettie Page (R; 100 min.), directed by Mary Harron, written by Harron and Guinevere Turner, photographed by W. Mott Hupfel III and starring Gretchen Mol and Lili Taylor, opens Friday at selected theaters.
Send a letter to the editor about this story.