April 12-18, 2006
home | metro silicon valley index | silicon valley restaurants | review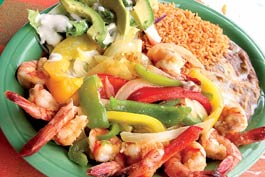 Photograph by Felipe Buitrago
Tastes Like Willow Glen: Even while expanding to three locations, the flavors at Tlaquepaque haven't changed.
An Empire In the Back Yard
True, Tlaquepaque has three locations—but they're all in Willow Glen. It's a rare story of expanding while holding on to local flavor.
By Stett Holbrook
WILLOW GLEN'S Tlaquepaque is a chain restaurant. But don't hold that it against it. Chain restaurants seldom make for good eating. They generally appeal to the lowest common denominator of taste by offering food that tastes the same whether you're in San Jose or San Antonio. Product uniformity and economies of scale generally trump food quality.
Before they go big, most chains start with a single store and then expand as owners envision bigger profits. What often gets lost along the road to franchiseable dining concept is the sense of place and local flavor that made the restaurant popular in the first place.
San Jose's Tlaquepaque is a local chain with its soul still intact. The restaurant opened a third restaurant on Curtner Avenue in December. The other two restaurants are on Lincoln Avenue and Willow Street. Asked why he's opened all his restaurants in the same neighborhood, owner Waldo Navarro said he didn't know. "It just worked out that way," he says.
And worked out it has. In spite of its growing number of locations, Tlaquepaque still feels (and tastes) like the small, locally owned business that it is. The restaurants are consistently crowded and rank as some of San Jose's most popular Mexican restaurants. Tlaquepaque occupies that sweet spot between a taqueria and a more formal sit-down restaurant. And then there are those highly gulpable chavelas.
I visited Tlaquepaque No. 3. If it's your first time, the restaurant can be a little confusing. On the front of restaurant it says El Rey Taqueria, the former occupant. On the back there's a banner that says Tlaquepaque is coming soon. Time to invest in some new signs, Waldo. Then again, people seem to find their way to the restaurant just fine. On my first visit I had to wait 25 minutes for a table at lunch.
The menu at Tlaquepaque is large. Any Mexican restaurant worth its refried beans has to serve a good taco, and Tlaquepaque succeeds. Just be sure to order the right one. Although some Mexican restaurants in the United States would lead you to believe it's OK to serve a taco as big as a pie plate and laden with a half-pound of meat and shredded lettuce, that ain't no taco. Tlaquepaque does serve a heavily garnished super taco ($3), but it is the more restrained small taco ($1.70) you want, especially the carne asada or the liberally sauced al pastor.
Tortas are another bellwether of a good Mexican restaurant, and here again Tlaquepaque delivers. The chicken torta ($5.25) arrives on a soft yet well-toasted telera roll stacked with juicy grilled chicken breast, thick slices of avocado and a generous application of mayo. Sopes, thick masa cakes topped with meat and/or cheese, are a lesser-known Mexican snack. Tlaquepaque's ($3) are fried lightly in a mild but flavorful red chile sauce and topped with juicy chunks of beef, lettuce, avocado and sour cream.
One of my favorite dishes here is the chile verde ($9.75), chunks of pork simmered in a tangy tomatillo sauce. The big hunks of meat were slow cooked and incredibly tender. The pale green sauce was thinner than other versions I've had, but didn't lack for flavor.
Less successful was my chicken enchilada ($4.50). First of all, there was no chicken in it, just melted cheese. I could deal with that if the red sauce wasn't so thick and pasty. It tasted straight out of a can.
Disappointing too was the steak Tlaquepaque ($10.98). Mexican steaks are not the 2-inch-thick slabs of beef we're accustomed to here, but thin, quick-grilled cuts of meat. This dish, billed as the house specialty, was just an unremarkable griddled steak topped with some green bell peppers and green onions. What's so special about that?
About those chavelas. Navarro says chavelas are the municipal drink in his hometown of Tlaquepaque, a city southeast of Guadalajara. The beverage ($4.99) arrives in a huge, frosted glass with salt on the rim. It tastes like beer with a limey bite and maybe something else that I can't quite identify. Navarro says the chavela is simply beer, lemon juice and salt. But when I asked my waitress she said the recipe is a secret. And when Metro music editor Todd Inoue inquired about the contents of the Mexican brain freeze a few years ago, Navarro took the fifth. Whatever is in that frosty goblet, it tastes awfully good going down. While it's clearly a drink for a hot summer day, it's eminently quaffable in rainy weather as well. In addition to chavelas, Tlaquepaque makes excellent horchata ($3).
Navarro says he isn't ruling out a Tlaquepaque No. 4. Before this chain adds any more links, pay them a visit. That way you'll be able to say you remember when they started out as just three little restaurants in Willow Glen.
---
Tlaquepaque No. 3
Address: 699 Curtner Ave., San Jose.
Phone: 408.448.1230.
Hours: Open 7am-9pm Mon-Sat.
Cuisine: Mexican.
Price Range: $8.50-$14.25.
Send a letter to the editor about this story.